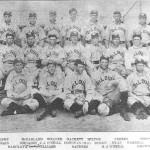 Mordecai "Three Fingers" Brown
Things don't get any better for the Cardinals in 1903 as they finish 43-94 and are 46.5 games behind Pittsburgh. Mordecai Peter Centennial ("Three Finger") Brown joins the team and gets his first of many victories but not all for the Cardinals. Brown has only three fingers and is from Indiana where he was a coal miner.
"Three Fingers" traded"
At the completion of the season (Dec. 12), he and Jack O'Neill are traded to the Cubs for Larry McLean and Jack Taylor. Brown goes on to win 20 games six straight seasons for the Cubs and is inducted into the Hall of Fame. This inscription can be found in the National Baseball Hall of Fame in Cooperstown, NY. :
"Not only did he (Mordecai 'Three Finger' Brown) overcome this handicap, he used it to his advantage in developing one of the sharpest curveballs ever."
ROSTER
Pitchers
Harry Betts
Mordecai Brown
Clarence Currie
Pat Hynes
John Lovett
Chappie McFarland
Larry Milton
Charlie Moran
Ed Murphy
Mike O'Neill
Bob Rhoads
War Sanders
Ed Taylor
Bob Wicker
Stan Yerkes
Catchers
Jack Coveney
Jack O'Neill
Jack Ryan
Art Weaver
Infielders
Harry Berte
Dave Brain
Jimmy Burke
Lee DeMontreville
John Farrell
Jim Hackett
Art Nichols
Lon Ury
Otto Williams
Outfielders
George Barclay
Patsy Donovan
Jack Dunleavy
Homer Smoot
Manager
Patsy Donovan
ALL 1903 Trades
December 12, 1903: The St. Louis Cardinals traded Mordecai Brown and Jack O'Neill to the Chicago Cubs for Larry McLean and Jack Taylor.
July, 1903: The Chicago Cubs purchased Clarence Currie from the St. Louis Cardinals.
June, 1903: The Pittsburgh Pirates purchased Art Weaver from the St. Louis Cardinals.
April, 1903: The St. Louis Cardinals traded Bob Wicker to the Chicago Cubs for Bob Rhoads.
March 1, 1903: Buffalo (Eastern) traded Dave Brain to the St. Louis Cardinals for Fred Hartman.
January, 1903: The St. Louis Cardinals traded Otto Krueger to the Pittsburgh Pirates for Jimmy Burke.
Before 1903 Season: The St. Louis Cardinals purchased Mordecai Brown from Omaha (Western).
Lineup
The 1903 St. Louis Cardinals starting lineup:
Catcher- Jack O'Neill 1B- Jim Hackett 2B- John Farrell 3B- Jimmy Burke
SS- David Brain OF- George Barclay OF- Homer Smoot OF- Patsy Donovan
SP- Mordecai Brown SP- Chappie McFarland SP- Mike O'Neill
CL- Clarence Currie
Offense
The offense was led by 38-year old player/manager Patsy Donovan with a .327 batting average and 25 stolen bases. Homer Smoot hit .296 and had a team high 4 home runs. Dave Brain knocked in 60 runs and Jim Hackett fanned the most with 56 whiffs. The team batting average was .251.
Pitching
Pitching was led by Chappie McFarland with a 9-19 record and 25 complete games. Mordecai (Three Fingers) Brown was 9-13 with a 2.60 ERA on the season. He also fanned 83 batters.