The St. Louis Cardinals traded Wally Roettger in 1930 to the New York Giants for Doc Farrell and Showboat Fisher

 The St. Louis Cardinals purchased Pidge Browne from the Chicago Cubs in 1956.

The Cincinnati Reds selected Frank Smith off waivers from the St. Louis Cardinals in 1956.

In 1959, the Cardinals released Sal Maglie.

The Los Angeles Angels, in 1961, purchased Ron Kline from the St. Louis Cardinals

The St. Louis Cardinals signed Mickey McDermott as a free agent in 1961.

The Philadelphia Phillies purchased Tito Francona in 1967 from the St. Louis Cardinals.

 The Cardinals signed Tom Niedenfuer in 1990 as a free agent.
It was on this date in 2006 that Busch Stadium III unveiled the statue of Stan "The Man' Musial outside Gate 3. 
The Cardinals hit into a triple play on this date in 2003. Orlando Palmeiro was the batter, Tino Martinez on first base and Scott Rolen at second. He hit into a 3-6-6 triple play which was Todd Helton at first and Jose Hernandez was at shortstop for the Rockies when they accomplished this feat.
Birthdays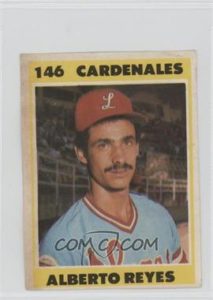 Alberto Reyes born in 1971 he played for the Cardinals in 2004-2005. However, he missed the Cardinals 2005 playoff run after tearing a ligament in his right elbow and required reconstructive surgery. He is 23-16 lifetime.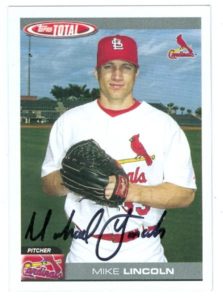 Mike Lincoln was born is 1975 and made the 2008 team out of spring training and went 2-5 with a 4.48 ERA in 64 games. His lifetime record is 17-30 with a 5.33 ERA.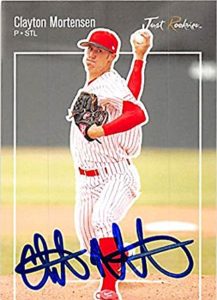 Clayton Mortensen born in 1985 and was called up to the major leagues for the first time on June 29, 2009. He was traded to the Oakland Athletics along with Brett Wallace and Shane Peterson on July 24, 2009, in exchange for Matt Holliday. He has a career mark of 6-11.
Debuts
Gary Blaylock made his debut in 1959 as a pinch runner for Stan Musial. Boxscore
Mike Proly pitched to one batter in this game in 1976 in which he coaxed a fly out. Boxscore
John Urrea, in 1977, faced nine batters and allowed one hit, fanned two and got a save in the game. Boxscore
Andre Pallante- 2022
Deaths
Milt Watson 1962