In 1954, Tom Alston becomes the first black player to appear in a Cardinals uniform. The highly-touted first baseman, acquired from the PCL's San Diego club in exchange for veteran infielder Dick Sisler and $100,000, pops out to first base in his first major league at-bat.
On Opening Day in 1954, off Chicago hurler Paul Milner, Wally Moon hits a home run in his first major league at-bat. The 24-year-old Cardinal center fielder, who will be selected as the National League's Rookie of the Year, will also homer in the last at-bat of his freshman season.

 On Opening Day in 1978, Roger Maris returns to Yankee Stadium for the first time since being traded to the Cardinals in 1966. The prodigal son, who has shunned many previous invitations, returns to help Mickey Mantle hoist the club's World Champion flag due to the promise of team owner George Steinbrenner to install sod and lights for the baseball field at his children's school in Gainesville, Florida.

By getting his 358th save when the Cardinals beat the Dodgers, 9-7, Lee Smith, in 1993, passes Jeff Reardon to become the all-time career saves leader.

After striking out three batters on nine pitches in the top of the ninth inning, Cardinal closer Jason Isringhausen gets the win when the Redbirds scored a run in the bottom of the frame for a 2-1 walk-off victory over Houston in 2002. 

The Kansas City Royals sent Victor Marte to the St. Louis Cardinals as part of a conditional deal in 2011.
Musial's Home Runs
On This Date in 1954, Stan Musial hit career home run #258 of 475 in the bottom of the 9th inning. The club was trailing 13-3 to the Cubs when he connected off Paul Minner for a solo shot.
Tommy John Surgery
In 1999, Matt Morris becomes the 8th Cardinals player to have the surgery.
Birthdays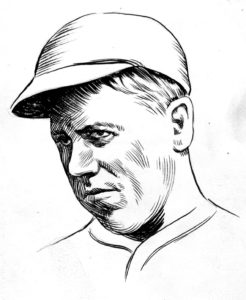 Patsy O'Rourke  (April 13, 1881 – April 18, 1956) played in 53 games in 1908 for the Cardinals. He made his debut on April 16, 1908, and his last game came on July 12, 1908. In those 53 games, he hit .195 with no home runs and 16 runs batted in. 

     Roy Walker  (April 13, 1893 – February 10, 1962) played for the Cardinals in 1921-1922 which were his last two seasons in the major leagues. In his career, he was 17-27 from the mound with a 3.99 ERA. 
 Kevin Ohme was born in 1971. He made his debut on April 14, 2003, and pitched the next day which was his last game in the major leagues. In 2 career games, he had a 0–0 record, with a 0.00 ERA. He pitched in 4.3 innings in his 2 career games, with 2 strikeouts. He batted and threw left-handed, and a hit in his only MLB at-bat gave him a rare career batting average of 1.000.
Debuts
Specs Toporcer 1921
Clyde Barfoot 1921
Tom Alston 1954
Alex Grammas 1954
Royce Lint 1954
Wally Moon 1954
Justin Burnette 2000
Eduardo Sanchez 2011
Deaths
Ody Abbott 1933
Joe Schultz 1941
Wish Egan 1951
Don Blasingame 2005
Bill Baker 2006