At Sportsman's Park in 1936, Eddie Morgan, appearing as a pinch-hitter in the Cardinals' 12-7 loss to Chicago, hits a home run in his first major league first at-bat. The round-tripper will be the 21-year-old rookie's only career homer during his brief stint with St. Louis and Brooklyn.
In the first regular season game played outside the United States, the Expos play their first home game in 1969, treating 29,184 fans at Jarry Park to an 8-7 win over St. Louis. Montreal moundsman Larry Jaster throws baseball's first international pitch to Cardinal left fielder Lou Brock.
In 1993,  Cardinal reliever Lee Smith breaks the National League mark, recording his 301st in the senior circuit. The right-handed reliever will extend the mark to 478, pitching for the Cubs (1980–1987), Red Sox (1988–1990), Cardinals (1990–1993), Yankees (1993), Orioles (1994), Angels (1995–1996), Reds (1996), and Expos (1997).
Mark McGwire, in 1998, is the first Cardinal to have a three home run game at Busch Stadium.
Birthdays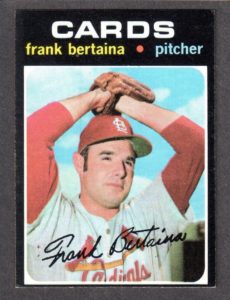 Frank Bertaina (April 14, 1944 – March 3, 2010)  posted a 19–29 record with 3.84 ERA in 100 pitching appearances, including 66 starts, five shutouts, six complete games and 10 games finished, giving up 208 runs (176 earned) on 399 hits, while striking out 280 and walking 214 in 413.0 innings of work in his seven-year career. He played his last game on September 25, 1970 while with the Cardinals. 
Roberto Mejia was born in 1972. He hit .247 with 31 home runs and 102 runs batted in for his career. He appeared in his final major league game on April 11, 1997, with the St. Louis Cardinals.
Debuts
Walton Cruise 1914  went 1-for 3 with a single in the first inning This was the opening of Robison field. 
Harry Glenn 1915 – With a 9th inning single, Glenn as 1 for 2
Stu Martin 1936 – 0-for-1
Bruce Ogrodowski 1936 – 0-for-1
Ray Sander 1942 – 1-for-4
Ray Jablonski 1953 – 2-for-4 with 2 singles and one error in the field
Rip Repulski 1953 -1-for-3
Bob Stephenson 1954 – no hits but one error at shortstop
Johnny Lewis 1964 – was a pinch runner
Hal Gilson 1968 –  pitched two innings allowed one hits and one walk.
Aaron Holbert 1996 – batted leadoff and went hitless, 
Kevin Ohme 2003 – relieved Brett Tomko with one out in the 6th and allowed no hits nor runs in two thirds of an inning
Deaths
Eddie Fusselback 1926
Dan Lally 1936
Red Smyth 1958