The Tigers purchased Dick Harley from the Cardinals in 1900.

Commissioner Kenesaw Mountain Landis, not a fan of Branch Rickey's farm system, grants free agency in 1938 to a group of nine Cardinal minor leaguers that includes Pete Reiser.

The St. Louis Browns, owners of Sportsman's Park, move to evict the Cardinals in order to gain a rent increase in 1949.

The Cardinals, in 1959, returned Bob Miller to the Philadelphia Phillies as part of a conditional deal.

The Cincinnati Reds purchased Howie Nunn from the Cardinals in 1960.

The Boston Red Sox, in 1963, purchased Bobby Smith from the Cardinals.

In 1965, the San Francisco Giants traded Moose Stubing to the St. Louis Cardinals for George Williams

The Cardinals trade Bob Shirley to the Cincinnati Reds for Oscar Brito and Jeff Lahti in 1982. 

The Cardinals traded Mike Dunne, Mike LaValliere and Andy Van Slyke, in 1987, to the Pittsburgh Pirates for Tony Pena

In 2010, the Cardinals sent Julio Lugo to the Baltimore Orioles as part of a conditional deal.

Cardinals traded Breyvic Valera to the Los Angeles Dodgers for Johan Mieses (minors) in 2018.
Birthdays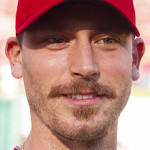 Tommy John Surgery

In 1991, Joe Magrane had Tommy John surgery and became the 5th Cardinals player to have the surgery.
Debuts
2008 Brian Barton- singled to center in the 7th inning
2008 Kyle McClellan- faced three batters in his debut and fanned one with no hits allowed.
2008 Rico Washington- grounded out to second base in a pinch-hit appearance in the 5th inning batting for the pitcher Kyle Lohse 
Deaths
Henry Stein (1927) – played in ONE game in his MLB career
Pat Deasley (1943)
George Strief (1946)
Casey Hageman (1964)
Bob Smith (2013)