Transactions, Trades, News and More
The Cardinals purchased Jack Bolling in 1940 from the Philadelphia Phillies
The San Francisco Giants traded Ray Katt to the Cardinals for Jim King in 1958.
In 1963, the Washington Senators purchased Minnie Minoso from the St. Louis Cardinals
The San Diego Padres traded Billy McCool in 1970 to the St. Louis Cardinals for Steve Huntz
The St. Louis Cardinals purchased Lerrin LaGrow from the Detroit Tigers in 1976.
The New York Mets traded Mark Davis and Jose Oquendo to the St. Louis Cardinals for John Young (minors) and Angel Salazar in 1985.
The Cardinals released Mike Gulan in 1998.
In 2012, Tommy John Surgery for Jordan Swagerty- He was the 34th Cardinals player to receive the surgery.
Birthdays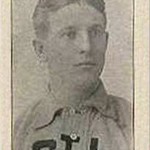 Jack Harper played for the Cardinals in the 1900-1901 seasons. In his career, he was 80-64 with a 3.55 ERA and fanned 466 strikeouts.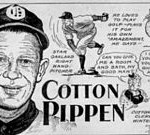 Cotton Pippen was a right-handed pitcher for three years with St. Louis Cardinals (1936). In 1936, Pippen struck out Ted Williams in his first professional at-bat in the Pacific Coast League.
   Gordon Jones was signed by the St. Louis Cardinals as an amateur free agent before the 1949 season and played for the Cardinals (1954–56), He made his major league debut on August 6, 1954.  He had exceptional control during his MLB career, with a strikeout to walk ratio of almost 2-to-1, exceptional for his era. He walked only 120 batters in 378.2 innings for a BB/9IP of 2.85.
   Reggie Smith during a seventeen-year major league career (1966–1982) appeared in 1,987 games, hit 314 home runs and batted .287. The Red Sox traded him to the Cardinals on October 26, 1973, along with Ken Tatum for Bernie Carbo and Rick Wise.
   Milt Ramirez played for the Cardinals in 1970-1971 and only managed a .184 batting average with no homers and six runs batted in for his Cardinals career.
   Hector Cruz  In 1976, his first regular season with the Cardinals, Cruz topped the National League rookies with 13 homers and 71 RBIs, but also led the league third basemen with 26 errors
   Brian Barden was born in 1981. On August 13, 2007, the Cardinals selected him off waivers. The Cardinals called him up after a hot start in the Pacific Coast League. He was Rookie of the Month in April 2005 after making his debut on April 3rd. He has a .211 career batting average with 4 home runs and 14 runs batted in.
 John Gall – On July 26, after a promising start to the 2005 season in Memphis, Gall was promoted for the first time to the major league roster, to replace Larry Walker, who was on the disabled list. In his debut against the San Diego Padres at PETCO Park, Gall proceeded to go 2-for-4 with a double.
Debuts
1998- Cliff Pollite    BOXSCORE
2001- Albert Pujols  BOXSCORE
2003- Kiko Calero     BOXSCORE  
Deaths
Gil Paulsen died in 1994– He pitched in one major league game for 2 innings and gave up one hit and fanned one batter. He was hitless in one at-bat in the majors.
Mike Cuellar died in 2010– He was a five-time All-Star that played for the Cardinals in his rookie season and went 5-5 in 1964.