The Cardinals released Hod Ford in 1932.
The Cardinals traded Bobby Locke and cash in 1962 to the Philadelphia Phillies for Don Ferrarese.
In 2005, the Cardinals released Mike Bell.
TRIPLE PLAY— April 28, 1918, the Cardinals were at bat in the 1st inning with runners at first and third. Doug Baird was the batter and he hit a grounder to third. Cincinnati turned a 5-4-3-2 triple play. This was the 103rd triple play in major league baseball since 1900.
Birthdays
 Jackie Brandt made his debut on April 21, 1956, with the St. Louis Cardinals. The Cardinals traded him two months later. In his brief time in a St. Louis uniform he played in 27 games and hit .286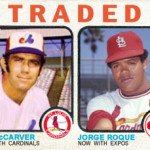 Jorge Rogue made his debut for the Cardinals on September 4, 1970, and played through the 1972 year with them. In his career, he hit .137. He was traded away for Tim McCarver, 
Jorge Sosa was traded to the St. Louis Cardinals for minor league pitcher Rich Scalamandre on July 31, 2006. Sosa compiled a 5.28 ERA in his short stint with the Cardinals and was not included on the postseason roster, missing the Cardinals' victory in the 2006 World Series. He was not offered a 2007 contract.
    David Freese is well known in St. Louis history for keeping the Cardinals in the 2006 World Series and then hitting a timely home run which led to them becoming champions. He is a native St. Louisian. Freese was projected to start the 2011 season, and he was named the starter on Opening Day, despite suffering minor ailments during spring training. Freese was named the World Series MVP. He became the sixth player to win the LCS and World Series MVP awards in the same year. He also won the Babe Ruth Award as the postseason MVP.
Debuts
Eddie Delles 1929
Lew Riggs 1934
Dave Bartosch 1945
Greg Garcia 2014
Randal Grichuk 2014
Deaths
Dewey McDougal 1935
Johnny Bucha 1996
Joe Durham 2016