Cardinals purchased Jim Winford from the Brooklyn Dodgers in 1940.

In 1969, the Phillies trade first baseman Bill White to the Cardinals for infielder Jerry Buchek and utility player Jim Hutto.

The California Angels purchased Bo Belinsky in 1969 from the St. Louis Cardinals

The Cardinals traded Joe Hall in 1991 to the Chicago White Sox for Willie Magallanes.

The first Sunday Night game is held in Cincinnati in 1994 and Cardinals OF Ray Lankford hits a home run as the first batter of the 1994 season. St. Louis goes on to defeat the Cincinnati Reds, 6 – 4, with Bob Tewksbury gaining the win.

In 2018, the Cardinals begin the game with the Brewers with back-to-back home runs. Dexter Fowler and Tommy Pham homer as the first two batters of the game. The Brewers end the game with back-to-back homers from Ryan Braun and Christian Yelich to win the game. This is the ONLY time this has happened in the history of the game. 
Birthdays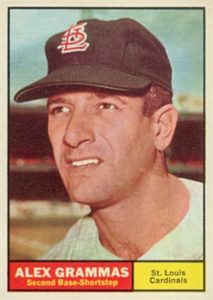 Alex Grammas played in the National League for the St. Louis Cardinals in 1954-1956. He was a defensive specialist on the infield and never was a regular player in his ten-year career. He made his debut on April 13, 1954 with the Cardinals.
   Wally Moon played his 12-year career in the major leagues for the St. Louis Cardinals (1954–58) and Los Angeles Dodgers (1959–65). He batted left-handed and threw right-handed.
He was the 1954 National League Rookie of the Year. He was an All-Star for two seasons and a Gold Glove winner one season.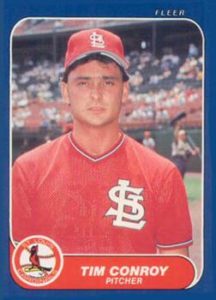 Tim Conroy played for the Cardinals in 1986-1987. In 7 seasons he had an 18-32 win-loss record.
Debuts
2016– Seung Hwan Oh –  vs. PIT 1.0 IP, 0 H, 2 SO, 2 BB, 0 ER
2016- Jeremy Hazelbaker- vs. PIT 1 AB, 0 H, 0 HR, 0 RBI, 0 SB
2017- Allen Cordoba- 
Deaths
George Barclay 1909
Count Campau 1938
Dick Harley 1952
Royce  Lint 2006