1954  The Chicago Cubs purchased Steve Bilko from the St. Louis Cardinals for $12,500
1980 The St. Louis Cardinals purchased Jim Kaat from the New York Yankees
1980– The St. Louis Cardinals signed Pedro Borbon as a free agent.
1988– The St. Louis Cardinals signed Mark Ryal as a free agent.
2000 Cardinals Mark McGwire and Jim Edmonds go deep, helping St. Louis finish the month of April with 55 home runs, tying the National League mark for homers hit by a team in a month. 
2008 The Cardinals and Cubs both set a franchise record for the most victories in April. The Redbirds beat the Reds, 5-2, for their 18th win of the month, and Chicago takes their 17th game, routing the Brewers, 19-5, at Wrigley Field.
Tracking Musial's Home Runs

Stan hit five homers on this date.

1944- #25 off of Hank Wise of the Cubs with the Cardinals behind 2-1 in the bottom of the 7th with a 2-run homer.

1947- He hit an Inside-the-Park Home Run off Bill Voiselle of the Giants ahead 1-0 for#54 of his career. 

1948- A 2-run homer came in Cincinnati with the Cardinals behind 5-2 with Howie Fox on the mound for #73 of his career.

1955- #245 homer was a solo homer off Don Liddle in the top of the 3rd inning with the team behind 2-0.

1957- Roy Face was on the hill and allowed #554 with the game tied at 5-5 in the 11th inning. His home run was the game winner. 
Birthdays
    Tony Brottem (April 30, 1892 – August 5, 1929) played for the Cardinals 1916 and 1918 and had a career average of .215 with no home runs and 13 runs batted in.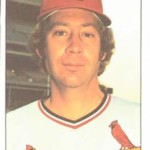 Mike Barlow played for the Cardinals in 1975 as a pitcher. His career mark he was 10-6 with a 4.63 ERA in eight seasons for four different teams. 
Debuts
Spud Davis 1928

Gus Mancuso 1928

Burgess Whitehead 1933

Frank Cimorelli 1994

Bryan Eversgerd 1994

Dennis Dove 2007

Tyler Greene 2009

Tim Cooney 2015

Austin Gomber 2018
Deaths
Tom Niland 1950
Leo Dickerman 1982
Dave Bartosch 2006