In 1911 – Automobile maker Hugh Chalmers introduces the concept of a Most Valuable Player in major league baseball. Chalmers announces that he will award a new car to the player in each league who is selected MVP by a vote of baseball writers.
The Phillies trade infielder Bert Niehoff and send cash to the Cardinals in 1918 for rookie right-hander Mule Watson. 
The  Cardinals returned Vicente Romo to Coatzacoalcos (Mexican) in 1982.
In 1983, The St. Louis Cardinals released Mike Kinnunen.
Mark McGwire begins what will be a historic season (1998), homering in the fourth consecutive game to tie Willie Mays' National League record for most homers to start a season. Big Mac's three-run blast in the sixth inning helps the Cardinals beat the Padres, 8-6.
The Cardinals, in 2004,  trade Wilson Delgado to the New York Mets for Roger Cedeno.
Stephen Piscotty has a painful run around the bases in 2017 in the 5th inning of the Cardinals' game against the Cubs. First, he reaches base when plunked of the left elbow by Jake Arrieta, then gets hit on the other elbow by C Willson Contreras when he advances to second on a wild pitch. He comes in to score when the Cubs misplay a ground ball near first base, but in the process is whacked in the head by 2B Javier Baez's throw home and has to leave the game with a possible concussion. 
Baseball History
In his only major-league game, Seattle's Ron Wright had three at-bats which included a strikeout (second inning), a 1-6-2-5-1-4 triple play (fourth inning), and a double play (sixth inning) for possibly the worst-ever major-league career.
Birthdays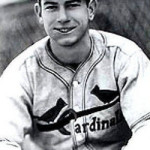 Mickey Owen- (born 1911) In his years in St. Louis, he played in 450 games, hit .257, managed 330 hits, walked 124 times and only fanned on 68 occasions.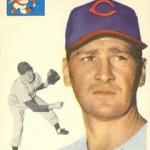 Frank Smith (born 1928) played his final season (1957) in St. Louis for the Cardinals. During his career, he compiled a 35–33 record in 271 appearances, mostly as a relief pitcher, with a 3.81 earned run average, 277 strikeouts, and 44 saves.
   Tom Herr (born 1956) played in 1982, 1985, and 1987 World Series – all with Cardinals, finishing fifth in the MVP voting and making his only appearance in the All-Star Game in 1985. During the 1985 season, he set career highs in nearly every statistical category, including an amazing 110 RBI which came along with only 8 home runs. A rare feat in the modern era of baseball, Herr remains the last NL player to drive in 100 or more runs in a season, while hitting fewer than 10 home runs.
   Scott Rolen (born 1975) was an 8-time Gold Glover at third base. He played for the Cardinals from 2002-2007. His 2004 season was one of his best. Despite being injured for the last stretch of the season, he finished the year with a career-high .314 batting average, 34 home runs, and 124 RBIs. He finished fourth in the National League MVP voting. In 2023, he was elected the the National Baseball Hall of Fame.
Debuts
Angel Mejia 1996 Pinch runner  Boxscore
Matt Morris 1997  5IP/7H/1ER  Boxscore
Chad Hutchison 2001  2.1IP/3H/2ER/2BB/2K  Boxscore 
Deaths
-none-