The Los Angeles Angels traded Bob Botz to the St. Louis Cardinals for Bob Duliba in 1963. 

The Cardinals purchased Alan Foster in 1973 from the California Angels.

The Cardinals purchased Rod Booker from the Minnesota Twins in 1983.

 The Cardinals, in 1984, purchased Gary Rajsich from the Mets.

The Expos traded Ken Hill to the Cardinals for Kirk Bullinger, Bryan Eversgerd and DaRond Stovall in 1995.

The Cardinals purchased Fernando Salas in 2007 from Saltillo (Mexican).

The Cardinals call up shortstop Aledmys Diaz in 2016.
Birthdays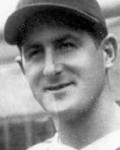 Gene Crumling joined the Cardinals during the 1945 season and was a backup catcher to Ken O'Dea. He played in six games and got one hit in 12 at-bats.
Jimmie Schaffer was born in 1936 and made his debut on May 20, 1961. He got a hit off of Dick Ellsworth of the Cubs. In his major league career, he played in 304 games and produced a .223 batting average with 11 homers and 56 runs batted in.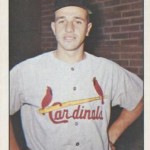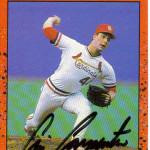 Cris Carpenter was born April 5, 1965. He ended with 27 victories and 225 strikeouts and maintained a 3.91 ERA. He played his last game against the Brewers on April 26, 1996. In Cardinals history, he has been confused with Chris Carpenter.
Debuts
Rafael Santana 1983 He went 0-1 in the game. 
Aledmys Diaz 2016
Deaths
Earl Howard (1937) He played in one game and pitched two innings allowing no hits and two walks. He also drove in a run.
Herb Gorman (1953) He played in one game and had no hits in one at-bat.
Mike Pasquella (1963) He played in two career games with 2 plate appearances, one hit, and one RBI.