On This Date
The very first time the Cardinals played on April 6th was in 1971. Before this, the season started later by about 1-2 weeks. 
Transaction Wire
The Cardinals traded Bob Wicker in 1903 to the Chicago Cubs for Bob Rhoads
Yucatan (Mexican) purchased Eric Rasmussen from the St. Louis Cardinals in 1982.
The Phillies, in 1985, traded Bill Campbell and Ivan de Jesus to the Cardinals for Dave Rucker.
The Cardinals purchased Lee Tunnell in 1987 from the Pittsburgh Pirates.
In 1997, with a 3-2 loss to Houston at the Astrodome, the Cardinals remain winless after the first six games of the season. It is the Redbirds' worst start in the 106-year history of the franchise.
Birthdays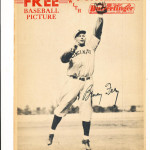 Benny Frey (April 6, 1906 – November 1, 1937) was a right-handed pitcher that played for the Cardinals in part of 1932. Most of his career was with the Reds. He played in two games for the Cardinals and was 0-2 with a 12.00 ERA, allowed 6 hits and 4 earned runs.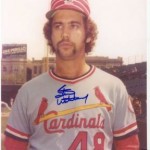 Steve Waterbury was born in 1952 and was signed in 1971 by the Cardinals as an amateur free agent. He played in a Cardinals uniform in 1976 and had no record with 6 strikeouts and a 6.00 ERA.
Debuts
David Freese 2009 He was 0-1 in the game. Boxscore
Erik Komatsu 2012 Singled and went 1-1 in the game.
It was also the managerial debut of Mike Matheny. Boxscore
Matt Bowman 2016
Deaths
Ike McAuley (1928)
J.B. Young (1938)
Steve Mesner (1981)
Tom Sunkel (2002)
Ken Johnson (2004)