Trades and Transactions
In 1948, the Phillies trade infielder Ralph LaPointe and gives the Cardinals $30,000 to obtain first baseman, Dick Sisler.
The Chicago Cubs traded Bobby Locke to the St. Louis Cardinals for Allen Herring 1962.
The Cardinals traded Bob Humphreys to the Chicago Cubs in 1965 for Hal Gilson and Bobby Pfeil
The Pirates purchased Bob Purkey from the Cardinals in 1966.
The Cardinals, in 1967, traded Harry Parker to the Cleveland Indians for Roric Harrison.
In 2016, the Orioles purchased Jayson Aquino from the St. Louis Cardinals.
Birthdays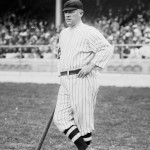 John McGraw (April 7, 1873 – February 25, 1934), nicknamed "Little Napoleon" and "Muggsy" and was elected to the Baseball Hall of Fame in 1937. He walked over 100 times in a season three times, scored over 100 runs in a season five times, batted .320 or higher in every year from 1893 on, and also boasted an on-base percentage of .400 or higher in every year from 1893 on, including a career high mark of .547 in 1899.
Art Weaver (April 7, 1879 – March 23, 1917)  Weaver played for four different teams from 1902 to 1908, playing most of his games at catcher and hit .183 in his career.
Charlie Rhodes was a pitcher for the Cardinals from 1906-1909 and was 7-11 in his Cardinals career.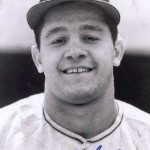 Bobby Del Greco (born April 7, 1933 )In nine seasons he played in 731 Games and had 1,982 At Bats, 271 Runs, 454 Hits, 95 Doubles, 11 Triples, 42 Home Runs, 169 RBI, 16 Stolen Bases, 271 Walks, .229 Batting Average, .330 On-base percentage, .352 Slugging Percentage, 697 Total Bases and 29 Sacrifice Hits. He wore 10 different numbers in his 9-year career.
Mark Thompson played for the Cardinals in 1998-2000. He finished his major league career with an 18–24 record, with a 5.74 ERA. He struck out 198 and walked 161 in 337 innings pitched. He had a .154 batting average in 104 career at bats and one career home run.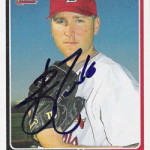 Brett Tomko on December 15, 2002, he was traded to the St. Louis Cardinals for Mike Wodnicki and Luther Hackman. Tomko won 13 games in his only season in St. Louis.
   Ronnie Belliard On Sunday, July 30, 2006, Belliard was traded to the St. Louis Cardinals for utility infielder Héctor Luna. He was a key part of the Cardinals' success in the 2006 National League Division Series when he hit .462 with two RBI and two runs scored.
Debuts
John Sutton 1977 –  in the 9th inning facing the Pirates, he gave up 3 hits and two runs and a walk before getting a double play to end the game
Ricky Horton 1984 (2.1IP/1H/1ER/1BB/1K/9BF)
Scott Arnold 1988 – facing the Reds, he relieved Jose DeLeon in the 4th inning and allowed 2 R, 3 H, 0 E, 2 
Mike Busby 1996 – he started the game against the Atlanta Braves and allowed in 4IP 9H 13R 8ER 8BB 4SO 4HR 28 BFP for the loss. 
Colby Rasmus 2009 –  went 2-for-4 with both hits as singles and had one RBI against the Pirates. 
Deaths
-none-