The Cardinals traded Ivey Wingo to the Cincinnati Reds for Mike Gonzalez in 1915.
In 1922 at Sportsman's Park, the St. Louis Cardinals wear their new uniforms (two red birds on a bat with the words "Cardinals" across the front) for the first time in an exhibition contest with the St. Louis Browns. Browns pitcher Urban Shocker tops the Cardinals' Willie Sherdel, 3 – 2, the same result as their matchup a week ago.
Four days before the season opens in 1927, recently-traded Rogers Hornsby breaks the impasse by selling his stock in the St. Louis Cardinals for $112,000. He receives $86,000 from owner Sam Breadon, $2,000 from each of the other seven National League clubs, and an extra $12,000 from the New York Giants, his new team.
The New York Giants, in 1942, traded Rar Blaemire and Jumbo Brown to the St. Louis Cardinals for Tom Sunkel.
The Cardinals purchased Ferrell Anderson in 1953 from the St. Louis Browns.
The Cardinals traded Bob Duliba to the Los Angeles Angels for Bob Botz in 1963.
As partial compensation for the loss of Curt Flood in 1970, who refuses to report to Philadelphia, the Cardinals send minor league prospect Willie Montanez to the Phillies. The former St. Louis outfielder takes exception to being traded without his consent, ultimately appealing his challenge of the reserve clause, unsuccessfully, to the U.S. Supreme Court.
The Houston Astros purchased Tom Dixon from the Cardinals in 1975.
The San Diego Padres, in 1976, traded Danny Frisella to the Cardinals for Robert Stewart (minors) and Ken Reynolds
The St. Louis signed Bernard Gilkey and  Jeff Parrett as free agents in 1995.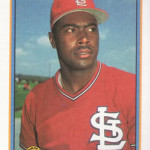 In 1996, the Cardinals signed Pablo Ozuna as an amateur free agent.
In 2016, The Cardinals set a record with three pinch-hit homers in a 7 – 4 win over the Braves. Aledmys Diaz, Greg Garcia and Jeremy Hazelbaker all go deep coming off the bench. For Diaz, it is his first homer in the majors.
Birthdays
Lloyd Merritt born in 1933 he compiled a 1-2 record long with a 3.31 ERA with 35 strikeouts in just over 65 innings on the mound in 1957.
  Rich Batchelor was born in 1967 and was drafted by the New York Yankees, he was traded to the St. Louis Cardinals for Lee Smith in 1993. He made his debut on September 3, 1993, and finished his career with a 5-1 record.
Timo Perez-  In his first Cardinal at bat, he was hit in the head with a pitch. He split his time between the Cardinals and the Memphis Redbirds before being designated for assignment on August 23. He played in 23 games with the Cards and hit .194.
Debuts
1973 John Andrews  He faced seven batters and walked one and struck out one but allowed no hits. BOXSCORE
1992 Brian Jordan went 2-for-5 with four runs batted in. BOXSCORE
2004 Hector Luna went 1-3 and homered in the 3rd inning (his first at bat) with one RBI. BOXSCORE
2010 Allen Craig went hitless in four at bats and struck out once. BOXSCORE
Deaths
Homer Peel 1997
Al Gettel 2005
Eddie Miksis 2005
Hersh Lyons 2008 (played in one MLB career game)