2009 Bud Selig announces the establishment of a special committee, composed of managers and longtime executives who will explore "on-field matters", that the baseball commissioner will chair. The 15 panel members include four owner representatives – Paul Beeston (Blue Jays), Dave Montgomery (Phillies), Chuck Armstrong (Mariners), and Bill DeWitt (Cardinals), three current managers – Tony La Russa (Cardinals), Jim Leyland (Rockies), and Joe Torre (Dodgers) along with Mike Scioscia (Angels), Orioles president for baseball operations Andy MacPhail, Indians GM Mark Shapiro, Braves president John Schuerholz, former Twins GM Terry Ryan, political columnist George Will, and Hall of Famer Frank Robinson.
Trading History and Transactions
The St. Louis Browns purchased Ray Pepper and George Puccinelli from the Cardinals in 1933.
In 1955, the Cardinals signed Walker Cooper as a free agent.
The San Francisco Giants in 1959 traded Daryl Spencer and Leon Wagner to the Cardinals for Don Blasingame.
The Cleveland Indians traded Jack Kubiszyn and Ron Taylor to the Cardinals for Fred Whitfield in 1962,
Cardinals purchased Tito Francona from the Cleveland Indians in 1964.
1964- The Pittsburgh Pirates traded Earl Francis and Ted Savage to the St. Louis Cardinals for Ronald Cox (minors) and Jack Damaska
Cardinals traded Randy Wiles to the Chicago White Sox for Tony La Russa in 1967.
In 1983, the St. Louis Cardinals released Jeff Doyle.
The Cardinals signed Jerry White as a free agent in 1985.
The Cardinals signed Willie McGee as a free agent in 1995.
The Cardinals, in 19991 signed Mike Matheny as a free agent.
2001- The Boston Red Sox traded Rick Asadoorian (minors), Dustin Brisson (minors) and Luis Garcia (minors) to the Cardinals for Dustin Hermanson
The San Diego Padres traded Brett Tomko in 2002 to the Cardinals for a player Mike Wodnicki and Luther Hackman.
Cardinals drafted Hector Luna from the Cleveland Indians in the 2003 rule 5 draft in 2003.
The Cardinals signed J.C. Romero in 2011 as a free agent.
Birthdays
Art Howe (1946)
Mike Proly (1950)
Jimmy Sexton (1951)
Aaron Miles (1976)
Former Cardinals Deaths
Dummy Hoy 1961
Eddie Kazak- died 1999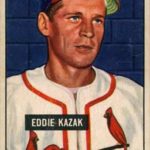 Kazak enlisted and fought in World War II. He was injured in the Normandy invasion by a bayonet and shrapnel that entered the bone. He spent 18 months in the hospital and was told he could never play baseball. He defied the odds and made his major league debut with the Cardinals on September 29, 1948 as a third baseman. He played in the major leagues until his last game on July 1, 1952. In his career he batted .273 with 165 hits and 11 home runs.