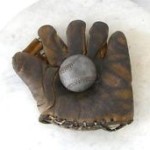 1996– The St. Louis Cardinals traded Steve Montgomery to the Oakland Athletics for Dennis Eckersley
Birthdays
Fred "Fritz" Buelow was a catcher in Major League Baseball. Born in Berlin, Germany, Buelow was the first player born in Berlin to play in the major leagues.
Buelow got his start in the major leagues after being sold in September 1899 by the Detroit Tigers of the Western League to the St. Louis Perfectos with Tom Thomas and Pat Dillard. He played nine seasons in the major leagues with the St. Louis Perfectos (1899), St. Louis Cardinals (1900), Detroit Tigers (1901–04), Cleveland Naps (1904–06), and St. Louis Browns (1907). He had a career batting average of .192 with six home runs. Though a weak hitter, Buelow was reputed to be better as a catcher. He had at least 66 assists as a catcher in five straight seasons, 1901–05, including 88 in 1904. In 1904, Buelow had 466 chances, with 378 putouts and 88 assists.On May 4, 1902, the American League suspended Buelow for rowdyism on the field during a game on May 1.
Pete Castiglione (February 13, 1921 – April 22, 2010) was an infielder in Major League Baseball player for eight seasons from 1947 to 1954. Born on February 13, 1921, he initially signed a baseball contract to play for the Pittsburgh Pirates out of High School, and then played three seasons in the minor leagues from 1940 to 1942, before joining the United States Navy during World War II. After the war, he returned to the Pirates' organization in 1946, joining the major league club during the 1947 season. He played for the Pirates until June 14, 1953 when he was traded to the St. Louis Cardinals for Hal Rice. Castiglione played the rest of 1953 season and the 1954 season in the Cardinals' organization.He played an additional five seasons in the minor leagues before retiring from baseball.
Bob Habenicht (February 13, 1926 – December 24, 1980) was a Major League Baseball pitcher who played for two seasons. He pitched for the St. Louis Cardinals in three games in 1951. He had a 6.75 ERA with two strikeouts.
Dick Hughes (born February 13, 1938, in Stephens, Arkansas) is a retired professional baseball player who played 3 seasons for the St. Louis Cardinals of Major League Baseball (MLB). In his rookie year, 1967, he led the National League in WHIP (walks+hits per IP), and finished second to Tom Seaver in the National League Rookie of the Year voting.
Hughes replaced veteran left-hander Al Jackson in the Cardinals rotation in late May, pitching a 2-hit shutout against Atlanta in his first start of the season. He went on to win 16 games that year to lead the Redbirds.In spring training of 1968, Hughes was warming up in the bullpen when he felt pain in his throwing shoulder. Though undiagnosed at the time, the injury was later determined to be a torn rotator cuff. At the time, there was no surgery to fix such an injury. Despite the injury, Hughes was able to pitch 60 innings during the 1968 season, but those were the last he would throw as the injury ultimately ended his major league career
Donnie Moore (February 13, 1954 – July 18, 1989) was an American relief pitcher in Major League Baseball (MLB) who played for the Chicago Cubs (1975, 1977–79), St. Louis Cardinals (1980), Milwaukee Brewers (1981), Atlanta Braves (1982–84) and California Angels (1985–88). He is best known for giving up an important home run in the 1986 American League Championship Series.