"Sunny Jim" Bottomley put together some big seasons for the Cardinals. The Nokomis, Il native made his major league debut on August 18, 1922. He played for the Cardinals for 11 seasons.
His St. Louis numbers are:
1392 games
1727 hits
333 doubles
119 triples
181 home runs
1105 RBI's
.325 batting average
Bottomley was known for his pleasant personality in a time of baseball when many played with fire and contempt. Hence, his nickname "Sunny Jim".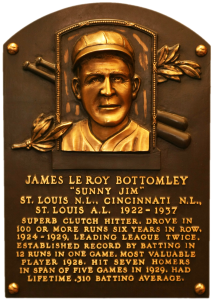 Lifetime numbers:
.310 batting average
219 home runs
1422 RBI's
2-time member of World Champion teams
NL MVP 1928
NL Home run Champ 1928
2-time NL RBI leader
inducted into inaugural St. Louis Cardinals Hall of Fame
1974 inducted in National Hall of Fame
This note from Wikipedia:
Bottomley was elected to the Baseball Hall of Fame posthumously in 1974 by the Veterans Committee. The Baseball Writers Association of America charged that the Veterans Committee was not selective enough in choosing members. Charges of cronyism were levied against the Veterans Committee. When Bottomley was elected, the Veterans Committee included Frankie Frisch, a teammate of Bottomley's with the Cardinals. Frisch and Bill Terry, also a member of the Veterans Committee at the time, shepherded the selections of teammates Jesse Haines in 1970, Dave Bancroft and Chick Hafey in 1971, Ross Youngs in 1972, George Kelly in 1973, and Freddie Lindstrom in 1976. This led to the Veterans Committee having its powers reduced in subsequent years. In 2014, the Cardinals announced Bottomley among 22 former players and personnel to be inducted into the St. Louis Cardinals Hall of Fame Museum for the inaugural class of 2014.
The city park in Sullivan is named for Bottomley. A museum in Nokomis, Illinois, the Bottomley-Ruffing-Schalk Baseball Museum, is dedicated to Bottomley and fellow Hall of Famers Ray Schalk and Red Ruffing, who were also Nokomis natives