St. Louis Cardinals released Chauncey Fisher in 1901.
In 1906 the Cardinals send Spike Shannon to the NY Giants for Doc Marshall and Sam Mertes.
The Cincinnati Reds purchase Les Mann in 1923 from the Cardinals
Cardinal right-hander Bill Doak loses his no-hitter in 1922 when he forgets to cover first base, turning Curt Walker's seventh-inning grounder to first baseman Jack Fournier into an infield hit. The Redbirds' star spitballer settles for a one-hitter, his second of the season, and a 1-0 victory over the Phillies at Sportsman's Park.
St. Louis is the host of the All-Star game in 1948 and fans are thrilled as Stan Musial hits a home run in the first inning.
1965 At Metropolitan Stadium,  Bob Gibson earns the save for the NL All-Stars in a 6-5 victory. Gibby allowed 2 H and a BB but struck out Willie Horton, Harmon Killebrew, and Joe Pepitone in 2 innings of work. Willie Mays scores the go-ahead run in the 7th in the AllStar Game
The Cardinals in 1972 disposed of the Braves 2-0 in a game that lasted 93 minutes as Reggie Cleveland 2-hits Atlanta.
The St. Louis Cardinals signed Eliezer Alfonzo as an amateur free agent in 1996.
Birthdays
Tom O'Hara 1880
Daryl Spencer 1923
Clint Sodowsky 1972
Ryan Ludwick 1979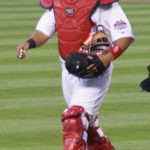 Yadier Molina 1982
Debuts
Deaths
Jimmie Reese 1994

Mickey Owen 2005

Dave Ricketts 2008
Tracking Musial's Home Runs
In 1958 he hit a solo home run for career #395 facing Ron Blackburn and the Pirates in the top of the 8th inning.
Bob Gibson's Complete Games
In 1962, he pitched 9IP/3H/0ER/4BB/5K for a 6-0 win and complete game #23 of his career. 
Walk-Off Winners (WOW)
1984- George Hendrick reached on an error to start the bottom of the 10th inning facing the Padres. With one out, Tito Landrum singled. Now Chris Speier steps to the plate with two out and blasts a home run for the 7-4 Walk-Off Winner. WOW
2006- The game is tied 2-2 with the Dodgers in the bottom of the 14th inning. LA sends Odalis Perez to the mound and he gets So Taguchi to fly out deep to right field. Albert Pujols is next and he smokes a home run out to the bleachers and the Cardinals are 3-2 Walk-Off Winners. WOW