HISTORY OF CARDINALS
  With the game tied in the 15th inning, catcher Mike Gonzalez steals home with two outs to garner a win for starter Bill Doak. Doak surrendered all four runs in the first inning. of this game in 1917. 
The Cardinals and Browns make a deal in 1949 with the Cardinals getting Don Richmond and the Browns securing Bobby Young.
Mike Lee is released in 1962. 
The Cardinals trade Leron Lee and Fred Norman to the Padres for Al Santorini in 1971. 
The Cardinals, in 2002, send Seth Davidson to the Twins for Warren Morris. 
Birthdays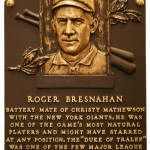 Roger Bresnahan (June 11, 1879 – December 4, 1944)  Before coming to the Cardinals, he shifted to catcher full-time in 1905 and on Opening Day in 1907, Bresnahan began to experiment with protective gear.  Bresnahan practiced in shin guards that are worn in cricket during spring training and debuted them on April 11, 1907. Fans used to seeing catchers play without protective equipment, threw snowballs on the field, and without police at the game, umpire Bill Klem called off the game, with the Giants forfeiting to the Philadelphia Phillies. The press also criticized the use of shin guards. However, other catchers began to adopt Bresnahan's idea. Though Pittsburgh Pirates manager Fred Clarke protested Bresnahan's gear to the league, the protest was denied and the equipment was approved. He was traded to the Cardinals in 1905 and also was given the duties as player-manager with the Cardinals until his departure after the 1912 season. 
 Wheezer Dell (June 11, 1886 – August 24, 1966) made his debut in a Cardinals uniform on April 22, 1912. He was first Nevada born player to reach the major leagues. In his career, he won 19 games and lost 23 with a 2.55 ERA and 198 strikeouts. 
Bob Gibson's Complete Games
In 1963, Gibson pitched complete game # 29 when the Cardinals defeated the Pittsburgh Pirates 3-1. His pitching line was 9IP/6H/1ER/4BB/8K

He pitched a complete game shutout in 1966 with a 2-0 win over the Philadelphia Phillies as he went 9IP/9H/0ER/2BB/7K which was # 87 CG of his career. 

In 1968, he pitched 9IP/5H/0ER/2BB/4K for a 6-0 shutout win over Atlanta for complete game #116 of his career. 

Complete game #233 came in 1973 as the Cardinals won 12-4 over the Reds. Gibby pitched 9IP/5H/3ER/5BB/9K.
Debuts
John Vann 1913
Deaths
Tom Leahy 1951
Frank Woodward 1961
Jim Konstanty 1976
Fred Martin 1979
Check us out on Facebook!