Tracking Musial's Home Runs
Stan hits a 2-run homer which is #310 of his career in 1955. It was in the top of the 7th inning with the Cardinals trailing 5-3 facing the New York Giants and pitcher Sal Maglie. 
The Boston Braves purchased Lou North from the Cardinals in 1924. 
In 1940, there is a trade that stuns the baseball world, the Dodgers obtain Ducky Medwick and pitcher Curt Davis from the Cardinals for outfielder Ernie Koy, pitcher Carl Doyle, two minor leaguers and $125,000. The deal signals the emergence of Brooklyn as a serious contender.
Bob Gibson's Complete Games
1970- Gibson pitches the 68th complete game of his career as the Cardinals defeated the San Francisco Giants 4-1 9IP/5H/1ER/2BB/8K
The Cardinals, in 1973, released Bobby Fenwick.
The Major League Baseball Player's Association goes on strike and is out for two months in 1981.
In 1986, the Cardinals released Jerry White.
WOW (Walk Off Win) 1999
Bottom of the 14th, Cardinals Batting, Tied 7-7, Detroit Tigers' Willie Blair pitching
Willie McGee Single to 3B (Ground Ball)
Mark McGwire Flyball: CF (Deep LF-CF)
Ray Lankford Single to RF (Line Drive to Short RF); McGee to 2B
Fernando Tatis -Single to LF (Line Drive to Short LF); McGee to 3B; Lankford to 2B
Darren Bragg  Strikes Out Looking
Edgar Renteria Single to RF (Line Drive); McGee Scores; Lankford to 3B; Tatis to 2B GAME OVER
The Cardinals released Gabe White in 2005.
One and Done
Cal Browning– was a pitcher in Major League Baseball. He played for the Cardinals in one game on June 12, 1960, and finished with a 40.50 ERA and no wins.
Birthdays
 Pat Dillard (June 12, 1873 – July 22, 1907) made his debut on April 21, 1900, and appeared in 57 games in which he hit .230 with no home runs and 12 runs batted in. He played his last game on August 18, 1900.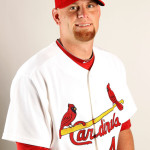 Kyle McClellan (1984) played for five seasons with the Cardinals as he made his major league debut on April 1, 2008. He finished with a 19-23 record with the Cardinals. He was given his release after the 2012 season. McClellan played one game with the Texas Rangers and went 0-1 before he retired. 
Debuts
Skipper Roberts 1913
Cal Browning 1960 (see above)
Greg Terlecky 1975
Mark Grater 1991
Andrew Brown 2011
Deaths
Cliff Caroll 1923
Randy Moore 1992