On this date in 1987 and 2004, the Cardinals had walk-off wins.
For $2,500 the Cardinals bought Bob Harmon from Shreveport (Texas League) in 1909.
The Cardinals acquire Jeff Pfeffer in 1921 from the Brooklyn Robins for Hal Janvrin and Ferdie Schupp. 
The Cardinals deem is Charles Lindbergh Day in 1927 and the flyer helps the team raise the National League pennant. the Cardinals win 6-4 and it is the return of Rogers Hornsby. He had earlier been traded by owner Sam Breadon over a salary impasse. 
Bob Gibson's Complete Games
In 1962, he lost a complete game 1-0 to the Dodgers as he went 8IP/3H/1ER/4BB/8K for CG #20 of his career.
The Cardinals pitcher Bob Bowman beans Dodger Ducky Medwick in 1940. The Cardinals had just traded him a week before. Bowman is accused of deliberately hitting Medwick as they had been seen quarreling in the hotel elevator before the game. 
2013- Clay Zavada is released. 
Tracking Musial's Home Runs
#85 was hit in 1948 facing Bob Newsom

In 1952, Stan hit #215 off of Russ Meyer

Windy McCall surrendered # 279 in 1954.

#392 came in the 1st inning in 1958 with Don Newcomb on the hill.

1961- Musial smacked a solo homer facing Bob Friend for career #436. 
Birthdays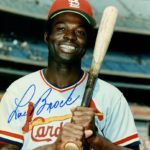 Lou Brock (1939)  Brock played 2,616 games and got 3,023 hits and batted .293 for his 19-year career. He was a six-time All-Star. In a unique (if incidental) accomplishment, Brock was the first player ever to bat in a major league regular season game in Canada.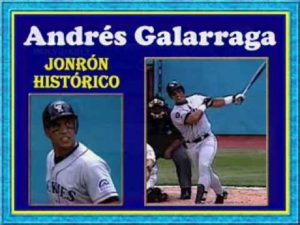 Andres Galarraga (1961) He became a Cardinal player in 1992 and broke his wrist as a pitch hit him. He didn't recover until late in the season. Don Baylor, his hitting coach in St. Louis, became the manager the next season in Colorado and convinced them to acquire Galarraga.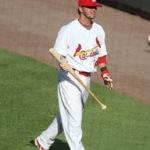 Jarrett Hoffpauir (1983) played sparing in 2009 and hit no homers and drove in 2 runs while batting .217.
Debuts
Jay Von Noy 1951
Don Dennis 1965
Mike Barlow 1975
Stubby Clapp 2001
Deaths
Murphy Currie 1939

Jimbo Harting 1941
ALSO:
All baseball fans are familiar with the one at bat that Eddie Gaedel had but few know
that on June 18, 1961, at the age of 36, he was the victim of a death ruled a
homicide since he suffered a heart attack while being brutally mugged. Only
one baseball player came to his funeral, Bob Cain, the pitcher who walked him
on four straight pitches, Here are the particulars of the one at bat.
Date……………………………….August 19, 1951 (2nd Game)
Opponent……………………….Detroit Tigers
Battery…………………………..Bob Cain(P) and Bob Swift(C)
Pinched Hit For……………..Frank Saucier
Pinch Runner For Him…..Jim Delsing
Home Plate Umpire………..Ed Hurley
Attendance……………………..18, 369
Lifetime On Base %………..1.000