This Date in Cardinals History
Flint Rhem was purchased from the Cincinnati Reds by the Cardinals in 1936.

In 1959, Solly Hemus is released. 

The Los Angeles Angels, in 1961, purchased Joe Koppe from the Cardinals for $1,000.

1996- 15-time All-Star Ozzie Smith announces he will retire at the end of the season. He was elected to the Hall of Fame on his first ballot. 

Tomo Ohka is signed as a free agent in 2007.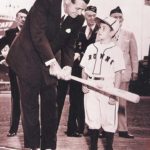 This picture was taken on June 19. 1949 while Babe Ruth was making his farewell tour. Babe would die two months later. This is Babe showing his bat to a young fan. That fan is currently Bill Dewitt, Jr. who is President of the St. Louis Cardinals. 
Birthdays
Harry Betts  (June 19, 1881 – May 22, 1946) had his major league debut on September 22, 1903, and in 9 innings of work that year he allowed 11 hits, 10 earned runs, 5 walks, and 2 strikeouts. It wouldn't be for another 10 years before he pitched in the majors again. (it was for only one game)
Don Gutteridge (June 19, 1912 – September 7, 2008) in 1936 in his second career game, Gutteridge had six hits in a doubleheader. Included was an inside-the-park home run and he stole home twice. His career ended with a .236 batting average. 
Don Ferrarese (1929)  played his final major league season with the Cardinal in 1962. In that year he had a 2.70 ERA along with a 1-4 record.  He was 19-36  and earned a 4.00 ERA in his career.
Jerry Reuss (1949) made his debut late in the 1969 season and ended in 1971 when he was traded to the Astros for Scipio Spinks. He was traded because he wanted a larger salary increase than owner August Busch wanted to give him.
Rudy Arroyo (1958) In his 9 games for the Cardinals in 1971 he was 0-1 and allowed 18 hits, 7 earned runs in 11.2 innings of work. 
Oscar Taveras (June 19, 1992 – October 26, 2014) He was a top prospect that got plenty of mention before his made his debut. He hit a home run in the first game he ever played. He died on October 26, 2014, when his car ran off the road and struck a tree. 
Debuts
Al Burch 1906
Hal Kime 1920
John Fulgham 1979
Mark Salas 1984
Bo Hart in 2003 – He was 2-for-3 with a double.
Deaths
Lew McCarty 1930

Pretzel Getzien 1932

Ed Pabst 1940

Hap Morse 1974

Gene Freese 2013
Tracking Musial's Home Runs
In 1949, Musial hit career home run #123 in the 8th inning facing Jim Konstanty
Sandy Koufax gave up #335 as Stan hit a 2-run homer in the first inning.
Stan hit a solo home run facing Roy Face for career homer #367 in 1957.
The Cardinals had Walk-Off Winners (WOW) on this date in 1996 and 2011.
In 1929, the Cardinals were involved in a triple play. 
Bob Gibson's Complete Game
In 1966, Gibson pitched complete game #89 of his career with a 5-1 win over Philadelphia. He went 9IP/3H/1ER/4BB/7K.
He had a complete game loss in 1974 against the Giants with 9IP/14H/5ER/3BB/6K and it was CG #241 of his career.