WOW (Walk-Off Win) The Cardinals had a walk-off win on this date in 2018.

In the bottom of the 9th, with the game tied 2-2 playing the Pirates, Kolten Wong led off the inning with a home run. GAME OVER, WOW!!                BOXSCORE HERE
Grover Lowdermilk was purchased by Cardinals from Decatur (Three-I) in 1909.

Bobby Tiefenauer was purchased in 1960 by the Cardinals from the Cleveland Indians.

Cal Neeman is purchased by the Cleveland Indians from the Cardinals in 1963.

A trade is made between the Cardinals and Cubs in 1964 as Lew Burdette goes to Chicago and Glen Hobbie comes to St. Louis.

The Detroit Tigers traded Al Greene and John Martin to the Cardinals for Jim Lentine in 1980.

 Cardinals signed Andy Hassler in 1984 as a free agent.

In 2007, the Cardinals purchased Kelly Stinnett from the Dodgers.

2022- Cardinals hit four back-to-back-back-to-back home runs off the Phillies. Arenado, Carlson, Yepez and Gorman were the hitters. This was the 11th time in baseball history it had been done.
Gibson's Complete Games
In 1968, Gibby tosses complete game #114 as the Cardinals defeated the Mets 6-3 on 9IP/7H/3ER3BB/3K.
OTD (1968): Allowing his only 3 runs of THE MONTH, Bob Gibson goes distance K'ing 8 in LCards 6-3 win over Mets in G1 of DH. Gibby received 6 runs of support, vs getting only 13 in 1st 10 games combined. His ERA rose to 1.66, highest point for rest of year.
Tracking Musial's Home Run- He had none on this date in Baseball History. 
Birthdays

 Tom Leahy (June 2, 1869 – June 11, 1951) played his last season as a catcher with the Cardinals in 35 games with 97 at-bats in which he batted .227 with 24 hits. His last game was on October 1, 1905. 

 Farmer Burns (June 2, 1876 – ? ) played in ONE major league game on July 6, 1901, for one inning where he walked one, allowed 2 hits and 1 earned run for a 9.00 ERA but didn't figure into the win or loss. 
 Oscar Horstmann (June 2, 1891 – May 11, 1977) pitched for the Cardinals from 1917-1919 and was 9-7 in 50 games with a 3.67 ERA and 176.2 innings pitched. His last game was on June 1, 1919. 

 Bob Lillis (June 2, 1930) was a middle infielder that wore the Cardinals uniform in 1961 and played in 86 games for them. He hit .217 with 50 hits in 230 at-bats. His last game came on September 17, 1967.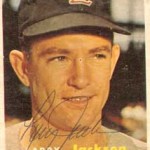 Larry Jackson (June 2, 1931 – August 28, 1990) was a right-handed pitcher that the Cardinals signed at a young age and he made his major league debut on April 17, 1955. In his eight seasons in a Cardinals uniform, he was 101-86 with a 3.67 ERA including 899 strikeouts.

 Marshall Bridges (June 2, 1931 – September 3, 1990) was a pitcher for two seasons for the Cardinals. He made his debut on June 17, 1959, and went on to a 9-5 record with a 4.52 ERA in 47 games. He was released after the 1960 season. 
 Benny Valenzuela (June 2, 1933) played in 10 games in his career all with the Cardinals in 1958. He had 14 at-bats with 3 hits for a .217 batting average. 
 Roger Freed (June 2, 1946 – January 9, 1996) played his last 3 seasons in a Cardinals uniform from 1977-1979. He was in 135 games, 206 at-bats, 63 hits, 9 home runs for a .306 average as a Cardinals player. He played his last game on September 28, 1979. 

 Darnell Coles (June 2, 1962) played near the end of his career with the Cardinals in 63 games and had 138 at-bats for a .225 batting average in 1995. 
Debuts
Tim Plodinec 1972
John Costello 1988
Brendan Ryan 2007
Maikel Cleto 2011
Lance Lynn 2011
Andrew Knizner 2019
Deaths
Bob McGraw 1978
Johnny Mize (HOF) 1993
BASEBALL HISTORY- Lou Gehrig, seventeen days before his 38th birthday, died in his sleep at his Riverdale home due to ALS in 1941.