Looking Back 5 yrs.
The Cardinals win 5-3 as Matt Adams, Allen Craig, Yadier Molina, Jon Jay, and Jhonny Peralta each bang out 2 hits. Peralta knocks in two runs and Carlos Martinez (1-3) wins his first game of the year. 5IP/3H/3ER/1BB/5K and Trevor Rosenthal notch his 22nd save of the season. The game was played in 2hrs 54min in front of 43,484 fans. 
Transactions
The Cardinals traded Dutch Distel, Marty Kavanagh, Tim Murchison, and player to be named to Milwaukee (American Association) for Austin McHenry in 1918.
In 1926, the Cardinals pick up future Hall of Famer Grover Cleveland Alexander, who was placed on waivers by the Cubs. The acquisition of 'Old Pete' will prove to be pivotal to the Redbirds' World Series triumph over the Yankees when the 39-year-old right-hander wins Games 2 and 6 and saves Game 7 of the Fall Classic.
In 1927, the Cardinals strengthen their hold on 2nd place by defeating the Cubs, 11 – 5, to sweep the series. Grover Cleveland Alexander, pitching out of turn at his own request, stops the Cubs on six hits. Alexander wanted to face the team that had shipped him down the river last season. Frankie Frisch has three hits to put him at .331, a point ahead of Rogers Hornsby, for whom he was traded.
The National League, in 1932, finally approves the use of uniform numbers to identify players. Although some teams in the AL implemented digits on their jerseys on a regular basis a few seasons ago, the Senior Circuit had refused to follow suit, probably as the result of the Cardinals being harassed by opposing players and fans when they wore numerals on their sleeves in 1923.
Stan Musial, 1959, becomes the all-time total bases leader, raising his total to 5,864, in the first game against the Phillies.
The Chicago Cubs purchased Curt Simmons in 1966 from the Cardinals.
The Cardinals traded Doug Bair to the Detroit Tigers for Dave Rucker in 1983.
The Cardinals have Walk-Off Wins on this date in 1985, 1999, and 2000.

1985- See debut below about Curt Ford.

1999- Bottom of the 14th, Cardinals Batting, Tied 3-3, Astros' Jeff McCurry facing 8-9-1
Mike Mohler Strikeout Swinging
Thomas Howard Strikeout Swinging
Joe McEwing Single to RF (Line Drive to 2B-1B)
Placido Polanco Single to CF (Ground Ball thru SS-2B); McEwing to 2B
Mark McGwire Single to CF (Ground Ball); McEwing Scores; Polanco to 2B
1 run, 3 hits, 0 errors, 2 LOB. Astros 3, Cardinals 4          GAME OVER

2000- Bottom of the 9th, Cardinals Batting, Tied 10-10, Giants' Mark Gardner facing 3-4-5
Mark McGwire Hit By Pitch
Eli Marrero pinch runs for Mark McGwire (1B) batting 3rd
Eric Davis Strikeout Swinging
Ray Lankford Single (Line Drive to LF-CF); Marrero to 3B
Craig Paquette Single (Ground Ball to P's Right); Marrero Scores; Lankford to 2B
1 run, 2 hits, 0 errors, 2 LOB. Giants 10, Cardinals 11.  GAME OVER
In 2002, a saddened Joe Girardi, the Cubs' player rep, informs the Wrigley Field crowd the scheduled game between St. Louis and the Cubs are postponed due to the death of Darryl Kile, who is found dead in his Chicago hotel room as the result of coronary disease. 
The Boston Red Sox, in 2005, sent Tim Hummel to the Cardinals as part of a conditional deal
 In just his fourth major league start, Cardinals starter Anthony Reyes throws a one-hitter, in 2004, but is beaten by the White Sox at U.S. Cellular Field, 1-0. The only hit the Redbird Rookie right-hander gives up is Jim Thome's seventh-inning solo home run.
The Detroit Tigers traded Mike Maroth to the Cardinals for Chris Lambert in 2007.
Tracking Musial's Home Runs 
1949- Stan hit #124 of his career facing Sheldon Jones of the NY Giants

He hit two homers in 1955 and both were off of Robin Roberts for #303 and #304.

In Philadelphia, Musial smacks #452 in 1962 with Paul Brown on the mound to tie the game in the 2nd inning.
Birthdays
 Gus Thompson (June 22, 1877 – March 28, 1958) played two seasons in the major leagues. The 1903 year was with Pittsburgh when he made his debut on August 31. He didn't play again until 1906 with the Cardinals. His career shows he was 4-13 as a pitcher with a 4.07 ERA and 58 strikeouts. He played his last game on September 21, 1906. 
George Puccinelli (June 22, 1907 – April 16, 1956) played outfield for two seasons (1930, 1932) for the Cardinals and hit 19 home runs with 102 runs batted in and a .283 career batting average in four total seasons. 

Mike Anderson (1951) played outfield from 1971-1979 in the major leagues with three teams. He played for the Cardinals in 1976-1977. In his career, he hit .246 with 134 runs batted in and 28 home runs. 

   Roy Thomas (1953)  On June 23, he was selected off waivers by the St. Louis Cardinals and brought directly to the majors. In his first appearance with the Cardinals, Thomas earned a win by pitching two scoreless innings in an extra-innings affair with the Pittsburgh Pirates.
 Esteban Yan (1975) was a reliever for the Cardinals during part of the 2003 season. One of his claims to fame came earlier in his career when on June 4, 2000, he hit a home run in his first major league at-bat, on the first pitch. He also had a single in his next at-bat, the only other of his career, giving him a 1.000 batting average and a 2.500 slugging percentage.
He also was mentioned in the comedy show The Simpsons along with Toma Ohka.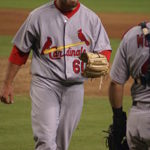 Jason Motte (1982) The Cardinals drafted him as a catcher in 2003 and he converted to pitching in 2006. Motte played a key role in the 2011 World Series championship run, saving five postseason games. In 2012, he led the National League (NL) in saves with 42.
Debuts
Buster Brown 1905

Austin McHenry 1918

Curt Ford 1985–  In the 10th inning with the game tied 1-1 vs the Cubs, Ozzie Smith singled and later went to 2nd on a wild pitch. Ford pinch hit in his major league debut for pitcher Ken Dayley. He singled in his first at-bat and drove in the winning run.   BOXSCORE
Nick Stavinoha 2008- In his third at-bat, he singled in the 5th inning against the Boston Red Sox. He was 1-for-6 in the game. BOXSCORE 
Michael Blazek 2013- Facing the Texas Rangers he pitched one inning and allowed no hits and fanned two.   BOXSCORE  
Deaths
Charlie Hemphill 1953- (born in Hemphill, Michigan and died in Detroit)

Ron Kline 2002 (born and buried in Callery, PA)

Darryl Kile 2002 (see above announcement concerning his death)