Looking Back
In 1944, the Cardinals won 16-0 as Mort Cooper improved his record to 7-3 on the season with 9IP/3H/0ER/2BB/4K. The Cardinals offense rapped out 22 hits including 5 doubles in the game and Stan Musial went 4-for-5 in the game. The opposing pitcher Xavier Rescigno allowed 17 hits in seven innings and 10 earned runs for the Pirates. 
Transactions and Interesting Tidbits
 The Cardinals released Cowboy Jones in 1901.

Cardinals player-manager Roger Bresnahan, in 1911, is called out on strikes by Bill Klem to end the game. When Roger argues too long over the call, Klem belts him. An embarrassed National League president Tom Lynch will fine the arbiter $50 for the punch.

1913 – The Giants tally 11 hits off Cardinal pitcher Dan Griner, but fail to score. 
 The St. Louis Cardinals released Mel Wright in 1959. 
In 1960, manager Solly Hemus benched Stan Musial at the start of the season as he wanted a youth movement in St. Louis. The 39-yr future Hall of Famer singles and stays in the line-up. 
 Cardinals traded Leo Burke to the Chicago Cubs for Barney Schultz in 1963.
"It was Worth It"
Bob Gibson after being fined $50 by umpire Harry Wendelstedt for throwing at Pirates pitcher John Morlan's head. Morlan had thrown at SS Jack Heidemann earlier in a game on June 24, 1973.
The San Diego Padres purchased Don Hahn in 1975 from the St. Louis Cardinals.
Cardinals OF Vince Coleman steals his 39th and 40th consecutive bases, in 1989, to the Pirates to break the major league record set by Davey Lopes in 1975. Coleman has not been caught stealing since last September 15th.
The Cardinals, in 1991, signed Bob McClure as a free agent.
The St. Louis Cardinals signed Bucky Jacobsen in 2002 as a free agent.
In 2005 the St. Louis Cardinals released Roger Cedeno.
Tracking Musial's Home Runs
In 1947, he hit career home run #60 facing Warren Spahn with a 2-run HR in the top of the 5th inning.
Another came off Warren Spahn on this date in 1951 with a solo and it was career #189 for Stan. 
Bob Gibson's Complete Games
It was a 2-1 win over Philadelphia in 1967 and was the 106th complete game of Gibson's career on 9IP/6H/1ER/3BB/8K.
In 1967, he garnered complete game #242 with a 4-0 shutout of the Pirates with 9IP/4H/0ER.3BB/11K
Birthdays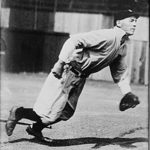 George Washington Harper (June 24, 1892 – August 18, 1978) played as an outfielder in Major League Baseball for six teams. Harper was three times among the league's leaders in batting average and on-base percentage: 1922, 1927 and 1928. His .453 on-base percentage in 1927 was 3rd best in the National League.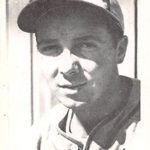 Buster Adams (June 24, 1915,  – September 1, 1990,) made his major league debut on April 27, 1939, for the Cardinals, but appeared in only two games that season. He would return to the majors with the Cardinals in 1943, playing in eight games before being traded to the Phillies.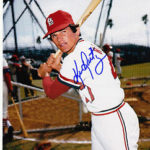 Ken Reitz (1951) was nicknamed the "Zamboni" for his skill at scooping up ground balls on the artificial turf of Busch Memorial Stadium. Selected in the 31st round in 1969 as the 730th player, In his rookie season of 1973, replaced Joe Torre as the Cardinals' starting third baseman. In both 1973 and 1974, he led all National League third basemen in fielding percentage. In 1975 he won a Gold Glove Award at the position, breaking Doug Rader's streak of five consecutive Gold Gloves.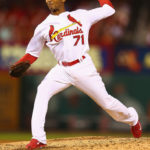 Sam Freeman (1987) former Cardinals reliever. 
Debuts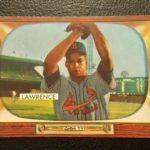 Brooks Lawrence 1954- He won his first game on the mound with a complete game and a 5-1 win over the Pirates. He ended the season with a 15-6 record as a rookie at age 29. It was on January 31, 1956, that he was traded by the St. Louis Cardinals with Sonny Senerchia to the Cincinnati Redlegs for Jackie Collum.
His stats were: 9IP/4H/1ER/2BB/4K    BOXSCORE
Deaths
  Billy Klusman 1907