Tracking Musial's Home Runs
1948- Musial hit career #88 home run facing Paul Minner with a solo homer in the 7th inning.
Johnny Vander Meer allowed #154 in the first inning as a 2-run home run was hit in 1950. 
In 1957, Stan hit #369 with Jack Sanford on the hill for Philadelphia with a 2-run homer in the 1st inning. 
In 1914, the Cardinals purchased Joe Riggert from the Brooklyn Robins.
The Cardinals, in 1962, receive a pair of shutouts from Larry Jackson and Ray Sadecki to sweep the Cubs, 4 – 0 and 8 – 0. Jackson yields four hits in the first game and Sadecki allows five hits in the nightcap. Sadecki hits a 9th-inning home run and Julian Javier and Curt Flood hit back-to-back homers off Bob Anderson.
Joe Torre hits for the cycle in 1973 as the Cardinals defeat the Pirates 15-4. He hits a double in the 1st, homers in the 3rd, and triples in the 4th. After hitting into a double play, and then walking in the 8th, Torre asks to be pinch run for, but Red Schoendienst leaves him in the game. Torre then singles in the 9th inning, completing the cycle, and raising his average to .338.
Final Career Win for Bob Gibson
In 1975, Bob Gibson at age 39, picks up his 250th career win. The Cardinals defeated the Expos 6-4. Gibson walked 4 of the final 7 batters he faced for this stat line:  6 IP/5H/2ER/6BB/1K. This was his final win as a starter, his 3rd to the last start. 
Allen McDill is signed as a free agent in 2000.
The Cardinal send Jess Todd and Chris Perez to the Cleveland Indians for Mark DeRosa in 2009.
Gibson's Complete Games
In 1965, Gibson pitched his 69th career CG with an 8-0 win over the Cubs with 9IP/5H0ER/2BB/12K.
Birthdays

 Dick Terwilliger (June 27, 1906 – January 21, 1969) played for the Cardinals in one game on August 18, 1932, as a pitcher. He threw 3 innings and allowed 1 hit, 2 walks and fanned two for his career. 
Fred Martin 1915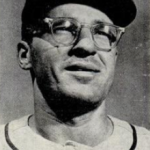 Eddie Kasko (1931) was a former shortstop and manager in the major leagues. He made his debut on April 18, 1957, with the Cardinals. He became the starting 3rd baseman as a rookie for the 1957 Cards after they moved Ken Boyer to center field.        In his 10-yr career, he hit .267 with 22 homers and 261 runs batted in. He managed 640 games and was 345-295 in his career. 
He became the starting 3rd baseman as a rookie for the 1957 Cards after they moved Ken Boyer to center field.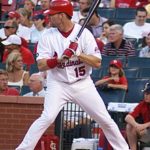 Jim Edmonds 1970 – Currently in the St. Louis Cardinals Hall of Fame
Debuts
Steve Melter 1909
Bill Bolden 1919
Jeff Lahti 1982
Deaths
Hugh Nicols 1920
Eddie Morgan 1982