The Cardinals trade OF Ted Cather and INF Possum Whitted to the Braves for righty Hub Perdue in 1914.
Ethan Allen races around the bases for an inside-the-park home run at the Polo Grounds in 1933 but is called out for batting out of turn, costing Joe Medwick his turn at the plate. Medwick bats for himself in the correct order, but grounds out.
Joe Medwick hits for the cycle in an 8-6 loss to Cincinnati in 1935.
Cardinals First Baseman Ripper Collins go the entire game (1937) without registering a putout. This is the third time this rarity has occurred and Collins has done it twice in his career.
Bob Gibson gets bombed in 1967 with his worst career start ever. He leaves with this stat line: 0.2IP/7H/9R/2BB/0K.
Stan Musial's National League record for consecutive games played (896) comes on this date before 41,060 in 1969.
The Cardinals signed Ray Soff as a free agent in 1985.
Dodgers' Fernando Valenzuela no-hits the Cardinals in 1990.
The Cardinals registered a (WOW) Walk-Off Win in 1996 when Brian Jordan singled home Willie McGee in the bottom of the 9th inning for a 6-5 win over the Pittsburgh Pirates. In that game, Ray Lankford and Jordan each had three hits. 
The  White Sox purchased Wilton Guerrero from the St. Louis Cardinals in 2005.
In 2011, the St. Louis Cardinals released Ryan Franklin.
BASEBALL HISTORY- June 29, 1938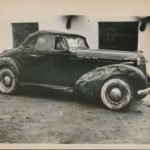 Babe Ruth's Wrecked Car
Tracking Musial's Home Runs
In 1954, Musial hot a solo home run in the first inning facing Joe Nuxhall of the Reds and it was career home run #281. 
#307 came against Cincinnati in 1954 with a 2-run homer in the bottom of the 6th inning with Rudy Minarcin on the hill. 
Bob Gibson's Complete Games
He had a complete game loss to the Cubs in 1969 with 8IP/7H/3ER/3BB/10K. It was CG #149 of his career. 
Birthdays
Wilbert Robinson 1864

Jack Sutthoff 1873

She Donahue 1877

Harry Patton 1884

Burgess Whitehead 1910

Nippy Jones 1925

Bobby Morgan 1926
Debuts
Ed Konetchy 1907

Ernie Vick 1922

Ralph Beard 1954

Ruben Amaro 1958

Jimmy Journell 2003

Clayton Mortensen 2009

Jorge Rondon 2014

Alex Mejia 2017

Ildemargo Vargas 2017
Deaths
Harry Lyons 1912

Steamboat Williams 1929