In 1902, Cardinal right-hander Mike O'Neil hits the first pinch-hit grand slam in major league history. The hurler's ninth inning blast off Beaneater Togie Pittinger proves to be the difference in the Redbirds' 11-9 victory over Boston at South End Grounds.
The Pittsburgh Pirates traded Ed Karger to the Cardinals for Chappie McFarland in 1906.
WOW (Walk-Off Wins)- The Cardinals walked off with wins in 1981, 1989, and 1991. 
In 1951, with two outs in the second inning of an eventual 1-0 loss to the Giants, Cardinals' southpaw Max Lanier walks Monte Irvin, gives up a double down the right-field line to Willie Mays, and then intentionally walks Hank Thompson to load the bases. The St. Louis lefty will get out of the early jam by striking out opposing pitcher Dave Koslo, but the frame will mark the first time in major league history a trio of black players occupies three bases at the same time.
The Cardinals traded Del Rice to the Milwaukee Braves for Pete Whisenant in 1955.
The Cincinnati Reds purchased Dick Egan in 1965 from the Cardinals
The Montreal Expos traded Mudcat Grant to the Cardinals in 1969 for Gary Waslewski.
Tracking Musial's Home Runs
1947- #57 of his career came off Warren Spahn and it was a 2-run homer in the bottom of the 5th inning and the Cardinals were ahead 1-0

#82 came in 1948 and was from the pitching of Preacher Roe with a 2-run homer

Sal Maglie of the NYGiants surrendered #272 in 1954 with a 2-run home run

#300 came in 1955 as a 3-run homer off lefty Johnny Podres

In 1958, he hit #390 to tie the game in the 6th inning while facing Curt Raydon of the Pirates
Birthdays

 Jim Dwyer (1950) played for the Cardinals from 1973-1975 as he debuted on June 10, 1973. In his 18-year major league career, Dwyer was a .260 hitter (719-for-2761) with 77 home runs and 349 RBI in 1328 games.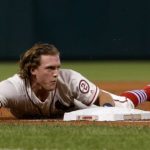 Harrison Bader– Currently, (2022) he is an everyday starter in center field. 
Gibson's Complete Games
In 1970, Gibby pitched his #167 complete game (9IP/8H/3ER/5BB/8K) with a 6-5 win over the San Francisco Giants. 
Debuts
Bill Lewis 1933
Greg Mathews 1986
Yadier Molina 2004 (went 2-for-4 and in this game both managers were ejected)
Mark Worrell 2008
Zack Thompson 2022 – pitched four shutout innings and received a save.
Deaths
Bill Kellin 1945
Jakie May 1970
Bob Glenn 1977
BASEBALL HISTORY
1888- The San Francisco Examiner publishes "Casey at the Bat"
1925- Eddie Collins of the Chicago White Sox collects his 3,000th hit
1932- Lou Gehrig becomes the first player to hit 4 home runs in a game