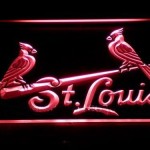 Former Cardinals Owner Robert Hannegan was born on this date in 1903.
The Cardinals traded Showboat Fisher to the St. Louis Browns for Tom Jenkins in 1932. 
The Cardinals acquire Buddy Bradford from the White Sox and send Bill Parsons and cash back in return in 1975.
Tracking Musial's Home Runs
1943 he hit career home run # 119 in the 4th inning 
1950- #155 was on the bottom of the 8th inning facing Clint Chambers of the Pirates.
In 1952, Musial hit a 2-run homer in the 1st inning off Ewell Blackwell for #216.
In 1957, he smashed career homer # 370 facing Ray Crone.
Stan hit a solo home run in the 1st inning for #394 facing Bob Giallombardo of the Dodgers in 1958. 
Bob Gibson's Complete Games
Gibby registered complete game #171 of his career with a 5-4 win over the Cubs with 9Ip/8H/4ER/5BB/6K in 1970.
Birthdays
Paul Toth 1935

Mark Grudzielanek 1970
Debuts
Jerry Buchek 1961

Dan Haren 2003

Barrett Browning 2013
Deaths
Lee Dressen 1931

Mike McDermott 1943

Red Jones 1974