Tracking Musial's Home Runs
Stan hit seven home runs on this date in baseball history. 
1948 a solo homer off Dutch Leonard #83
1949 a 2-run homer facing Monty Kennedy #120
1949 another off Monty Kennedy #121
1954 off Preacher Roe # 276
1958 #398 facing lefty Curt Simmons
1961 #434 and #435  with both as 2-run homers. 
1940– Owner Sam Breadon fires manager Ray Blades and hires Billy Southworth who had been fired when Blades got the job.
1960 In the Cardinals' 9-1 loss to Pittsburgh at Forbes Field, Bob Gibson ties a major league record when he strikes out four batters in one inning, the additional whiff coming as a result of a wild pitch. 
1970 Vic Davalillo gets two hits during the seventh inning of the Cardinals' 10-7 comeback victory over San Diego at Busch Stadium. The first of the Venezuelan outfielder's two singles comes when he leads off the frame as a pinch hitter for Bob Gibson.
1973– The San Diego Padres traded Dave Campbell to the St. Louis Cardinals for Dwain Anderson.
1976– The St. Louis Cardinals traded Danny Frisella to the Milwaukee Brewers for Sam Mejias.
1979– The Seattle Mariners purchased Rob Dressler from the St. Louis Cardinals.
1981– The Houston Astros traded Joaquin Andujar to the St. Louis Cardinals for Tony Scott.
1996- The St. Louis Cardinals traded Miguel Inzunza (minors) and Tom Urbani to the Detroit Tigers for Micah Franklin and Brian Maxcy.
Birthdays
Bill Popp  (June 7, 1877 – September 5, 1909) was a pitcher for a few months during the 1902 season as he made his debut on April 10, 1902, and was 2-6 with a 4.92 ERA in his career. He played his last game on July 21, 1902.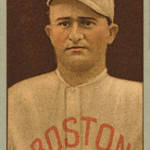 Hub Perdue (June 7, 1882 – October 31, 1968)  He pitched with the Cardinals for the rest of the 1914 season and in 1915. At the end of two seasons, his record with St. Louis was 14–20 (.412) with a 3.42 ERA and 72 strikeouts. His career major league record was 51–64 (.443) with a 3.85 ERA and 317 strikeouts. 
Dan McGeehan (June 7, 1885 – July 12, 1955) was a backup second baseman that played in 3 games in 1911. He went 2-for-9 with one run batted in for his career. Miller Huggins was the regular starter at second base. 
John Vann  (June 7, 1890 – June 10, 1958) played one professional game as a pinch hitter on June 11, 1913, and struck out. 
Heathcliff Slocumb (1966) pitched for the Cardinals in 1999-2000 mostly in relief. He compiled a career 28-37 record with 513 strikeouts and a 4.08 ERA in 631 innings with 98 saves. 
Chris Richard (1974) made his major league debut with the Cardinals on July 17, 2000. He appeared in 6 games with 16 at-bats. He had 2 hits including one home run. 
Tyler Johnson (1971) played for the Cardinals and made his debut on September 6, 2005. He compiled a 3-5 record with a 4.32 ERA. He appeared in the 2006 postseason as he pitched 7 1⁄3 innings and compiled a 1.23 ERA, including one scoreless inning in the World Series.
Dean Kiekhefer (1989) made his debut May 15, 2016.
Debuts
Andy Cavazos 2007
Deaths
Hi Bell 1949
Eddie Lake 1995