Tracking Musial's Home Runs
In 1952, Stan hit #212 in the bottom of the 1st inning facing Russ Meyer of the Phillies.
It was the top of the 6th inning when Musial hit #232 in 1953 off of Paul LaPalme.
1954- Carl Erskine was on the mound when Stan hit #277 in the 1st inning.
Musial belted a 2-run homer in 1957 facing Al Worthington for career #363.
The Cubs purchased Roger Bresnahan from the Cardinals in 1913.
Red Barrett retires the first 22 batters he faces, in 1944, before his bid for a perfect game is broken up with an eighth-inning single by Delmar Ennis.
BASEBALL HISTORY- On June 8, 1950, the Boston Red Sox establish a major league record for the most runs in one game as they rip the St. Louis Browns, 29-4, at Fenway Park.
The Cardinals purchased Allie Clark from the Chicago White Sox in 1953.
The Cincinnati Reds traded Hal Jeffcoat in 1959 to the Cardinals for Jim Brosnan.
Cardinals signed Tim McCarver in 1959 as an amateur free agent.
In 1965, the Cardinals make Joe DiFabio their first ever amateur draft pick. He never made it to the major leagues.
The Cincinnati Reds purchased Dick Egan from the Cardinals in 1965.
The Houston Astros traded Stan Papi to the Cardinals for Ray Busse in 1973.
The Houston Astros traded Bob Coluccio to the St. Louis Cardinals for Frank Riccelli in 1978.
Ken Boyer is fired by GM John Claiborne between doubleheader games in 1980 and interim Jack Krol finishes the day. The next day Whitey Herzog is hired.
The Cardinals walk-off win in 1991. 
1995- The St. Louis Cardinals signed Chris Sabo as a free agent.
In 2012, the St. Louis Cardinals released Scott Linebrink.
Birthdays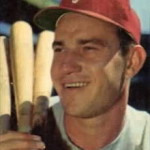 Del Ennis (June 8, 1925 – February 8, 1996) was an outfielder that played for the Cardinals in 1957-1958. In that period he played in 242 games with 819 at-bats along with 226 hits and a .276 batting average. In his career, he hit .284 with 288 homers and 1284 RBI's. 
Bill Smith (June 8, 1934 – March 30, 1997)  was a left-handed pitcher that made his debut on September 13, 1958 and finished with a 1-6 record and a 4.21 ERA with 34 strikeouts.
Joe Grzenda (1937) played for the Cardinals in his last season as he ended his career with a 14-13 record and a 4.00 ERA. He struck out 173 batters and is best known earlier in his career as the last pitcher to throw a ball for the Washington Senators before they left for Dallas the next season.  
Bob Gibson's Complete Games
In 1965, Gibson tosses complete game #68 with a 5-4 LOSS against Cincinnati. His pitching line for the game was 9IP/9H/5ER/2BB/3K.

Gibby achieved complete game # 104 in 1967 with a 6-2 win over Houston (9IP/4H/1ER/0Bb/9K)
Debuts
Jim Littlefield 1980

Jeff Keener 1982

Skip Schumaker 2005

Tommy Edman 2019
Deaths
Tom O'Hara 1954
Earl Smith 1963
Emil Verban 1989
Ray Henshaw 1993
Billy McCool 2014