WOW (Walk-Off Win) The Cardinals defeat the Cubs 6-5 on this date in 1992 in the bottom of the 11th inning tied 5-5. With one out, Ozzie Smith and Bernard Gilkey singles and Felix Jose's flyball put runners at first and third when Todd Zeile lines a single in the shortstop hole for the game-winning RBI.  BOXSCORE
1906– The Boston Beaneaters snap a 19 game losing streak by defeating the Cardinals
1946– The Boston Braves purchased Danny Litwhiler from the Cardinals
1947– Red Schoendienst goes 0-for-12 in a doubleheader
Gibson's Complete Games
In 1961, Gibson pitched CG #5 of his career with 9IP/11H/4ER/2BB/4K and an 8-4 win over the Cincinnati Reds. 

Facing San Diego, Gibby tossed career # 213 of his complete games with a 3-2 win as he went 9IP/5H/2ER/3BB/10K
1980– Whitey Herzog is named manager after Ken Boyer was fired the day before.
1987– The Cardinals signed Dan Driessen as a free agent.
2002– The St. Louis Cardinals released Jose Rodriguez.
2009– The St. Louis Cardinals drafted Shelby Miller in the 1st round (19th pick) of the 2009 amateur draft.
2012– The St. Louis Cardinals selected John Gaub off waivers from the Texas Rangers.
Tracking Musial's Home Runs
1952- Musial hits career home run #213 off Carl Erskine in the bottom of the first inning.
Facing Pittsburgh's Vern Law in 1956, Stan smacks career homer #332 with a solo home run in the bottom of the 3rd inning.
The following year, 1957, It is #364  with a 2-run home run facing Pete Burnside of the New York Giants with the Cardinals already ahead 2-0 in the 3rd inning. 
Birthdays

 Harry Glenn (June 9, 1890 – October 12, 1918) played in 1915 for the Cardinals as he made his debut on April 4, 1915, and played in 6 games as a catcher. He had 16 at-bats and 5 hits. His last game played was on May 12, 1915. Glenn was one of eight Major League Baseball players known either to have been killed or died from illness while serving in the armed forces during World War I. 

 Mike Ryba (June 9, 1903 – December 13, 1971) Made his major league debut for the Cardinals as a pitcher on September 22, 1935, and pitched seven innings in relief and picked up the win. In his Cardinals career, he was 16-9 with a 4.39 ERA. The Cardinals traded him to Boston on September 5, 1940, for Al Brazle.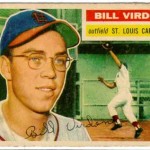 Bill Virdon (1931) was Rookie of the Year for the Cardinals in 1955 but then had a bad start to the 1956 season and he was traded to the Pirates. In his playing career, he hit .267 with 91 home runs and 502 RBI's. He went on to manage several teams upon completion of his playing days and amassed 995 wins and 921 losses in 1,918 games.
Doug Clemens (1939) played for the Cardinals from 1960-1964 and was primarily a defensive outfielder. He hit .229 for his career. He also played for the Phillies and Cubs. 
Julio Gotay (June 9, 1939 – July 4, 2008) made his debut as a shortstop on August 6, 1960, for the Cardinals and continued as primarily a reserve through the 1962 season. In his career, he hit .260 with 6 homers and 70 runs batted in for the Cardinals, Pirates, Angels, and Astros. 
John Fulgham (1956) played for the Cardinals from his debut on June 19, 1979 ( he pitched a complete game shutout, allowing eight hits, one walk, striking out six and getting the win) to his last game on August 27, 1980. He ended with a 14-12 record along with a 2.84 ERA and 123 strikeouts. His career ended with a rotator cuff injury. 
Randy Winn (1974) made his debut with the Tampa Bay Rays in 1998 and eventually became a Cardinals outfielder on May 28, 2010, he was officially released by the Yankees. He signed with the St. Louis Cardinals on June 5, and finished the season with them, becoming a free agent at the end of the season. His career he hit .284 with 110 home runs and 662 runs batted in. 
Scarborough Green (1974) made his Major League Baseball debut with the St. Louis Cardinals on August 2, 1997. He is known for being a replacement player during the spring training strike just before the start of the 1995 season. Due to this, he was never allowed to join the MLPA because he was blacklisted. He continued to play until 2000 with the Rangers. He compiled a .214 batting average with 36 hits and 10 runs batted in. He is currently (2016) teaching and coaching at a high school in Texas. 
Joe Kelly (1988) was selected by the Cardinals in the 3rd round of the 2009 amateur draft and made his major league debut on June 10, 2012, when pitcher Jaime Garcia went down with an injury.  In the Cardinals uniform, he pitched 266 innings and was 17-14 with a 3.25 ERA. On July 31, 2014, Kelly was traded to the Boston Red Sox along with first baseman/outfielder Allen Craig for starting pitcher John Lackey and Corey Littrell.
Debuts
Deaths
Harry Patton (1930)  played in ONE game
Frank Huelsman (1959)