The Red Sox, in 1959,  traded Dean Stone to the Cardinals for Nelson Chittum.

The Cardinals signed Red Schoendienst as a free agent in 1961 to finish his career as a Redbird.

The Blue Jays traded Tom Bruno and cash to the Cardinals for Rick Bosetti in 1978.
Birthdays
   Hal Kime (1898) was a pitcher and made his major league debut on June 19, 1920. He played for the St. Louis Cardinals and pitched seven innings in four games in his career where he allowed nine hits and 2 earned runs.
    Don Lang (1915) had his major league debut on July 4, 1938, and then didn't appear again in the major leagues for over 10 seasons. In between those he served in the military during WWII and worked his way back in the minor leagues. In 138 major league games, Lang posted a .268 batting average (100-for-373) with five home runs and 42 RBI, including 35 runs, 17 doubles, two triples and a .355 on-base percentage.
    Wayne Granger (1944) was selected in the amateur draft by the Cardinals in 1965 and he made his debut on June 5, 1968. He was 6-6 with a 3.28 ERA in 90.2 innings pitched. He allowed 90 hits and fanned 10 while walking 33 batters. He spent 9 years in the majors and played his last game on June 25, 1976.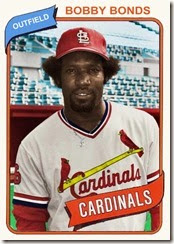 Bobby Bonds (1946) was traded by the Cleveland Indians on December 7, 1979, to the Cardinals for John Denny and Jerry Mumphrey. He played for the Cardinals in 1980. With the Cardinals in 1980, he only played in 86 games and had 231 at-bats. He walked 33 times and whiffed on 74 occasions. He had 47 hits with 24 runs batted in.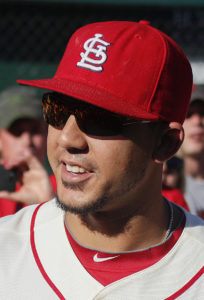 Jon Jay (1985) made his Major League debut on April 26, 2010, with the St. Louis Cardinals and played in 105 games and made 323 plate appearances (PA), batting .300 with 19 doubles and a .359 on-base percentage (OBP) in his rookie season.  In the outfield, he played all three positions. Stationed mainly in right field, he collected five assists. He established a new NL all-time errorless streak record for center fielders at 245 games against the Pittsburgh Pirates. It is also the longest streak for all Cardinals outfielders.
Deaths
Marty Marion died in 2011 and is buried in Valhalla Cemetery in St. Louis, Mo. He played 11 years for the Cardinals and drove in 605 runs and batted .264 for them. He was an eight-time All-Star and played on 3 World Series championship teams for the Cardinals. He was the National League MVP in 1944 and is a member of the St. Louis Cardinals Hall of Fame.