The Brooklyn Superbas sell John McGraw, Wilbert Robinson and Bill Keister to the St. Louis Cardinals for $15,000 in 1900. McGraw and Robinson refused to report.
Pitcher Dizzy Dean ends his well-publicized holdout, in 1936, and signs a contract with the St. Louis Cardinals. Dean agrees to a one-year deal that will pay him $24,000 for the upcoming season.
Commissioner Landis frees seventy-four Cardinal minor leaguers in 1938,  to halt the cover-up he perceives taking place in the St. Louis farm system.
The Cardinals returned Don Wallace (earlier draft pick) to the Baltimore Orioles in 1963.
The Cardinals traded Scipio Spinks in 1974 to the Chicago Cubs for Jim Hickman
In 1977, the Chicago White Sox traded Clay Carroll to the St. Louis Cardinals for Lerrin LaGrow
The Cardinals traded Kent Bottenfield and Adam Kennedy in 2000 to the Angels for Jim Edmonds
The Cardinals traded Luke Gregerson and Mark Worrell to the San Diego Padres for Khalil Greene in 2009.
Birthdays

  Rudy Kling made his debut with the Cardinals on September 21, 1902, and played his last game on September 26, 1902. He got one hit in five at-bats with no home runs or runs batted in.
     Ed Taylor (March 23, 1877 – January 31, 1912) was a pitcher for the Cardinals in 1903 where he played in one major league game in which he pitched for three innings and didn't allow a hit or a run. He also struck out one batter and walked none. His nickname was "Rube".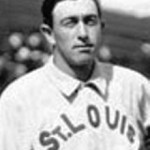 Homer "Doc" Smoot  (March 23, 1878 – March 25, 1928), played for the Cardinals from 1902-1906. His nickname was "Doc". The right-handed center-fielder played in 1902 with the Cardinals. On April 19, 1902, he made his debut and hit two home runs in the game and finished the season with three.
Died on this Date

Art Weaver- was part of the Cardinals 1902 and 1903 teams where he hit .228 in 27 games.
   Joe Garagiola  (February 12, 1926 – March 23, 2016) was an American professional baseball catcher and later an announcer and television host, popular for his colorful personality. Garagiola was born in St. Louis, Missouri. He grew up on Elizabeth Avenue in an Italian-American neighborhood in St. Louis known as The Hill, just across the street from his childhood friend and competitor, Yogi Berra.