Trades and Transactions
With major league, spring training again delayed in 1919, and an attempt to cut down expenses, the Cardinals open training in St. Louis at Washington University's Francis Field.
The New York Yankees purchased Pat Malone from the St. Louis Cardinals for $15,000 in 1935.
The St. Louis Cardinals purchase infielder Gene Mauch from the New York Yankees in 1952.
The Cardinals, in 1972, trade Frank Linzy to the Milwaukee Brewers for Richard Stonum
The Oakland Athletics purchased Larry Haney from the Cardinals in 1974.
The Cardinals purchased Tommy Sandt in 1977 from the Oakland Athletics
Birthdays
Rube Geyer (March 26, 1884 – October 12, 1962) pitched for the Cardinals from 1910 to 1913 and was 17-26 in his career with a 3.67 ERA. Reportedly, his best pitch was a drop pitch.
Hal Epps played seven seasons as an outfielder for the Cardinals from 1938-1944. He played in 125 games with one home run and a .253 batting average. Epps went to bat 50 times as a rookie in 1938, hit .300 on the nose and homered in his first turn at-bat. No stranger to irony, he never hit another.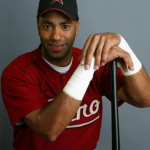 Jose Vizcaino was signed to a contract by the Cardinals and spent the rest of the 2006 season as a replacement for injured shortstop David Eckstein. He was a lifetime .270 hitter.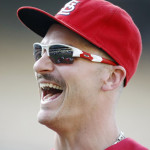 Brendan Ryan made his major league debut on June 2, 2007, and in a Cardinals uniform (2007-2010) he played in 415 games with 165 hits in 1206 at-bats. He managed 95 RBI's with 39 stolen bases and hit .259.
Marcus Hatley was called him up to the major league roster for the first time in his professional career on June 30, 2015. After two scoreless appearances from the bullpen, the club designated him for assignment on July 31. He has a 0-0 lifetime record.
Deaths
Jimmy Burke – He played for the Cardinal from 1903-1906 in which he hit .246 with 60 stolen bases and 109 runs batted in.