Former Cardinals Owner Gussie Busch was born on this date in 1899.
Trades, Transactions and Free Agents
 The Cardinals, in 1977, traded Bill Caudill to the Cincinnati Reds for Joel Youngblood

The Cardinals released Mike Anderson in 1978.

In 1984, the Cardinals signed Paul Wilmet as a free agent.

Cardinals signed Ted Power as a free agent in 1989.

The Mets traded Juan Acevedo in 1998 to the St. Louis for Rigo Beltran

The Cardinals released Quinton McCracken in 2001. 

The Cardinals released Allen Levrault in 2004.

The Cardinals released Hector Mercado in 2005.

 Cardinals released Luther Hackman in 2006.

 Cardinals in 2015, traded Sam Freeman to the Texas Rangers for a player to be named or cash
Birthdays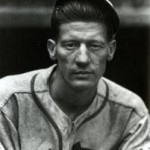 Lon Warnecke (March 28, 1909 – June 23, 1976)  nicknamed "The Arkansas Hummingbird", The Cubs traded him in October of 1936 for Ripper Collins and Roy Parmalee.  Warneke is the only major leaguer who has both played and umpired in an All-Star Game (umpired in 1952) and a World Series (umpired in 1954).
   Vic Rashi– On February 24, 1954, the Yankees traded him to the St. Louis Cardinals,  Raschi won only 12 games while losing 16. On April 23, 1954, Raschi gave up the first of Hank Aaron's 755 career home runs. Eight days before that Aaron got his first major league hit and it came off of Raschi.
Mike Fitzgerald was drafted in the 1st round of the Secondary Draft in 1984. He made his debut on June 23, 1988. He played in 13 games with 46 at-bats in which he got nine hits and struck out 9 times and walked none. His career batting average is .196. He played his last game on July 10, 1988.
     Craig Paquette is a former infielder that played for the Cardinals from 1999-2001. The Cardinals acquired him from the New York Mets in exchange for Shawon Dunston on July 31, 1999. As a Cardinals player, he played in 305 games and accumulated 235 hits including 40 home runs. He batted .267 and drove in 162 runs. The Cardinals granted him free agency on November 5, 2001. He played his last game on April 24, 2003.
Deaths
Chick Fullis  (February 27, 1904 – March 28, 1946)  was a member of the Cardinals' 1934 World Series winner. He had eye problems and had to retire at the age of 33.
Gus Thompson (June 22, 1877 – March 28, 1958) was a pitcher for the Cardinals in 1906. He was 4-13 in his short career.
Jim Hackett -(October 1, 1877 – March 28, 1961),  nicknamed "Sunny Jim", and played two seasons in the majors for the St. Louis Cardinals. In 1902, he was primarily a pitcher, appearing in 4 games with a 0–3 record at that position. In 1903, he was primarily a first baseman, batting .228, while still appearing in seven games on the mound and going 1–3.
Jack Coveney (October 1, 1877 – March 28, 1961) played in four games for the 1903 Cardinals and he was 2-14 in his career for .143 batting average.