The Cardinals, in 1935, release 44-year-old right-hander Dazzy Vance, who appeared in his first and only World Series during his one season with the team.
The Cardinals purchased Dennis Ribant from the Kansas City Royals in 1969.
The Cardinals purchased Ed Crosby in 1974 from the Philadelphia Phillies
The Cardinals traded Danny Godby to the Boston Red Sox for Danny Cater in 1975.
In 1977, the Cardinals traded Mike Caldwell to the Cincinnati Reds for Pat Darcy
The Cardinals traded Kerry Robinson in 2004 to the San Diego Padres for Brian Hunter
The Boston Red Sox traded Carlos De La Cruz (minors) and Kevin Ool (minors) to the Cardinals for Mike Myers in 2005.
Not Csrdinals Related:    1867 – Denton True "Cy" Young is born in Gilmore, a tiny village near Newcomerstown, Ohio. Young will earn his nickname for his cyclone-like pitching motion and he will win (and lose) more games than any pitcher in major league history with a 511-316 record and a 2.63 ERA over 22 seasons. Young will win 20 or more games 15 times, and top the 30-win mark five times. He will be elected to the Hall of Fame by the Baseball Writers Association of America in 1937, with 153 votes on 201 ballots.
Birthdays

Bob Steele played for the St. Louis Cardinals in 1916–1917 and his career record was 16-38 with a 3.05 ERA and 217 strikeouts.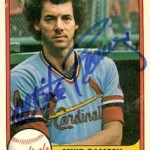 Mike Ramsey made his Cardinals debut on September 4, 1978 and played in the 1982 World Series where he went 0-1 and scored a run. For the six-year Cardinals career, he had 172 hits, 54 runs batted in and hit .245 in 348 games.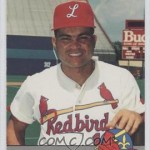 Geronimo Pena played for the Cardinals from 1990-1995. He hit .262 with 30 home runs and 124 runs batted in.In his career, he wore #7, #21, #27 and #60.
  Brian Jordan is a former Major League Baseball outfielder and National Football League safety. He made the decision to concentrate on baseball and in June 1992 he signed a contract with the Cardinals with a $1,700,000 bonus to end his football contract.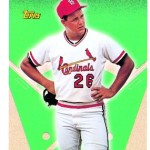 Sean Lowe was drafted by the Cardinals in the 1st round (15th pick) of the 1992 amateur draft.
Deaths
Jim Hughey 1945
Kid Carsey 1960
Ray Blair 1994
Terry Moore 1995
Debuts
Yariro Munoz 2018
Jordan Hicks 2018