The Cardinals purchased Dan McGann from the Washington Senators for $5,000 in 1900 and the Brooklyn Superbas purchased Gus Weyhing from the St. Louis Cardinals for $500
Rogers Hornsby, coveted by John McGraw of the Giants in 1922,, signs a three-year contract with Cardinals' owner Sam Breadon. The 25-year-old second baseman, who will hit .404 over the three-year span of the deal, agrees to a salary of $18'500 per season, making him the highest paid player in National League history.
Cardinals signed Geronimo Pena in 1996 as a free agent.
Birthdays
  Billy Southworth as an American right fielder, center fielder and manager in Major League Baseball (MLB). Playing in 1913 and 1915 and from 1918 to 1929, he batted left-handed and threw right-handed. Southworth managed in 1929 and from 1940 through 1951. 
From 1942 to 1944, the Cardinals won 106, 105 and 105 games, three pennants and two World Series titles. Southworth had presided over one of the most dominant three-year stretches in National League (NL) history.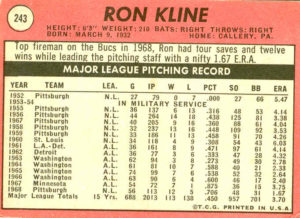 Ron Kline was a right-handed pitcher over parts of seventeen seasons and 9 teams. He suited up for the Cardinals in 1960 and went 4-9 with a 4.62 ERA in 34 games. 
   John Curtis-  He spent three seasons in St. Louis, going 24-34 with a 3.88 earned run average and 208 strikeouts, mostly as a starter. After the 1976 season, he was traded to the San Francisco Giants with Willie Crawford and Vic Harris for Mike Caldwell, John D'Acquisto and Dave Rader.
Deaths
Willie Davis