Cardinals History
The Brooklyn Superbas purchased Lave Cross in 1900 from the Cardinals for $3,000.
The Cardinals traded Clarence Mitchell to the New York Giants for Ralph Judd in 1930.
In 1934, the Cardinals released Burleigh Grimes.
The Cardinals purchased Johnny Lindell from the New York Yankees in 1950.
The Montreal Expos, in 1970, purchased Rich Nye from the Cardinals.
Cardinals traded Don Shaw to the Oakland Athletics for Dwain Anderson in 1972.
In 1999, the Cardinals signed Heathcliff Slocumb as a free agent.
The Cardinals selected Todd Wellemeyer off waivers, in 2007, from the Kansas City Royals.
MUSIAL'S HOME RUN HISTORY
475 Career Home Runs
May 15th is one of the few dates in Stan's career that he didn't hit a home run!
Birthdays
 Sam Fishburn  (May 15, 1893 – April 11, 1965) played in 1919 for the Cardinals and had six at-bats with two hits in nine career games.
  John Smoltz (1967) On August 19, 2009, Smoltz signed with the St. Louis Cardinals; he made his debut against the Padres on August 23. In his first game for the Cardinals, he went five innings, striking out nine and walking none, while setting a Cardinals franchise record by striking out seven batters in a row. That win against the Padres with the Cardinals was his only win with them that season.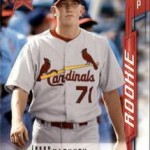 Jason Karnuth (1976) April 20, 2001, was his major league debut as a Cardinals player. In his career, he had a 2.70 ERA and a 0-0 record.
 Deaths
Larry Milton 1942
Lou North 1974
Showboat Fisher 1994
Bob Kuzava 2017
Debuts
none