This Date in Cardinals History
The Boston Braves purchased Walton Cruise from the St. Louis Cardinals in 1919.
Boston Red Sox traded Cot Deal in 1949 to the St. Louis Cardinals for Fred Harrington.
 The Pittsburgh Pirates traded Stan Rojek to the St. Louis Cardinals in 1951 for Erv Dusak and Rocky Nelson.
In 1956, the Pittsburgh Pirates traded Bobby Del Greco and Dick Littlefield to the St. Louis Cardinals for Bill Virdon.
 The San Diego Padres traded Butch Metzger in 1977 to the St. Louis Cardinals for John D'Acquisto and Pat Scanlon.
 The Kansas City Royals traded John Morris to the St. Louis Cardinals for Lonnie Smith in 1985.
The Cardinals, in 2012, purchased Jamie Romak from the Kansas City Royals.
MUSIAL'S HOME RUN HISTORY
475 Career Home Runs
In 1954, Stan hit a 2-run homer in the top of the 9th off Karl Drews of the Phillies for his 12th of the season and 269th of his career.

It was the bottom of the 4th on May 17, 1958, when Stan delivered in a scoreless game off Don Newcombe. It was his 389th of his career and the 8th homer of the season.

In Musial's last season, 1963, he smacked his 468th of his career and 5th of the year. It came in the bottom of the 4th inning against Jim Owens of the Cincinnati Reds.
Birthdays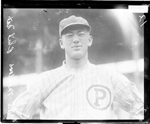 Frank Woodward (May 17, 1894 – June 11, 1961) played for the Cardinals in 1919 and was 3-5 with a 2.63 ERA and issued 28 walks and struck out 18 in 17 games. His career mark is 9-15 and a 4.23 ERA.
 Al Eckert (May 17, 1906 – April 20, 1974) played for the Cardinals in 1935. In his career, he ended with a 0-2 record and a 9.11 ERA.
 Greg Mathews (1962) During his rookie year (1986) he put up a 3.65 ERA in 145.1 innings. His 11 wins in 1986 were the most by a Cardinal rookie since Brooks Lawrence had 15 in 1954. His best season is most likely 1987, when he posted a 3.73 ERA, won 11 games and struck out 108 batters.
 Scott Seabol (1975) signed with the St. Louis Cardinals on May 27, 2003. After an injury to Scott Rolen, Seabol was promoted from Memphis and played several positions with the Cardinals in a backup role, primarily third base. His career numbers show he hit .217 with one homer and 10 runs batted in.
Debuts
Mike Murphy 1912
Bien Figueroa 1992
Deaths
Spike Shannon 1940
Roy Parker- 1954 
George "Specs" Toporcer –1989 
Bill Wight- 2007