Paul Waner, in 1932, strokes four doubles in one game. The future Hall of Fame outfielder's quartet of two-baggers enables the Pirates to beat the Cardinals at Sportsman's Park, 5-0.
The Cardinals, in 1958, trade Alvin Dark to the Cubs in exchange for hurler Jim Brosnan. Both players will be productive on their new teams during the remainder of the season with 'Blackie' hitting .297 in 114 games for Chicago, and the newest Redbirds' right-hander will compile an 8-4 record for St. Louis.
The Cardinals sign Curt Simmons as a free agent in 1960.
 The Cardinals sign Glenn Brummer as an amateur free agent in 1974.
In 2004, Cardinals' catcher Mike Matheny handles his 1,295th chance without an error to establish a major league record for backstops. Charles Johnson, playing for Florida, had set the previous mark in 1997. 
The Cardinals trade Matt Adams and cash to the Atlanta Braves for minor leaguer Juan Yepez in 2017.
CHECK OUT OUR FACEBOOK PAGE FOR MORE INFORMATION
MUSIAL'S HOME RUN HISTORY
475 Career Home Runs
On May 20, 1944, Stan Musial hit his second home run of the season and the 26th of his career. It was in the bottom of the 8th inning and the Cardinals leading 6-0 when he smacked a 2-run homer with Ken Brondell on the mound.

On May 20, 1948, he hit his 5th of the season and 76th of his career off Hugh Casey of Brooklyn.

In 1954, Howie Judson was on the hill in Cincinnati when Musial connected in the top of the 2nd inning for a 2-run shot. The game was to tied 3-3 when he hit his 267th career home run.
Box Score History– May 20, 1964- Bob Gibson fans 12 Chicago Cubs batters as the Cardinals win 1-0. Gibby walked none and allowed four hits. The Cardinals got three singles from Groat-Boyer and White for the only run.
Birthdays
 Jake Thielman (May 20, 1879 – January 28, 1928) was a right-handed pitcher that played for the Cardinals in 1905-1906 seasons before being traded to Cleveland. In his career, he had a 3.16 ERA with 158 strikeouts and a 30-26 record. 
John Murphy (May 20, 1879- April 20, 1949) played very briefly in the 1902 season. He had no career home runs and batted .240 with 2 runs batted in.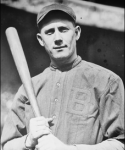 Ted Cather (May 20, 1889  – April 9, 1945) made his debut with the Cardinals on September 23, 1912. He played with the Cardinals until 1914 and ended as a career .252 hitter.
Lou Scoffic  (May 20, 1913 – August 28, 1997) played in four major league games and batter .429 for his career and added 2 RBI's.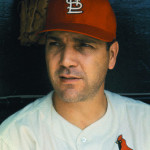 Ken Boyer (May 20, 1931 – September 7, 1982) was a third baseman and later became manager of the St. Louis Cardinals. He was an All-Star for seven seasons (11 All-Star Game selections), a National League (NL) Most Valuable Player (MVP), and a Gold Glove winner for five seasons. 
 Todd Stottlemyre 1965) was a pitcher for the Cardinals from 1966-1968. In his major league career, he won 38 games and lost 121. He ended with a 4. 28 ERA and struck out 1,587 batters.
Debuts
Jimmie Schaeffer in 1961 he was the catcher and went 1-for-3 with a single in his first at-bat. Boxscore
Ryan Kurosaki in 1975 pitched 1.2 innings with no hits allowed 3 walks and one strikeout. Boxscore
Matt Adams in 2012 he was 2-for-4 with two singles  Boxscore 
Genesis Cabrera 2019
Nolan Gorman- 2022- He went 1 for 3 with a single in his first appearance at the plate.
Cardinals Players that Died on this Date
Frank Bird– Died May 20, 1958
Charlie Pickett–  Died May 20, 1969, in Springfield, OH
Bob Keely–  Died May 20, 2001, in Sarasota, FL