Box Score History
May 21, 1952
The Cardinals shutout the New York Giants at the Polo Grounds as pitcher Clifford Chambers goes the distance for a 3-0 win. Chambers went 9IP/4H/0ER/3BB/4K to improve his record to 4-2. Stan Musial drove the first run in the 3rd inning with a single after Solly Hemus was HBP and Red Scheondienst singled. In the 4th inning, Del Rice homered and later in the game Musial was HBP and Enos Slaughter drove him in.
The Cardinals released Gene Mauch in 1952.
The  Cardinals signed Roy Smalley and Bill Wight as free agents in 1958.
In 1970, Steve Carlton strikes out 16 batters in a loss to the Phillies. Two days later  Bob Gibson fans 16 facing the Phillies. 
The Cardinals signed Dick Selma in 1973 as a free agent.
 The Cardinals signed Don Hahn as a free agent in 1975.
The Cardinals released Eli Marrero in 2007.
In 2009, the letter "I'' on the Big Mac Land sign at Busch Stadium is knocked out by Albert Pujols's first-inning blast off Sean Marshall in the Cardinals' 3-1 victory over Chicago. 
The Cardinals signed Luis Montanez as a free agent in 2012.
May 21, 1975- Bob Gibson pitched the last complete game of his career. It was a 1-0 loss to the Padres as Gibby lost on an unearned run. He went 8IP/4H/0ER/3BB/1K in 29 batters faced. The game lasted one hour and 37 minutes.
MUSIAL'S HOME RUN HISTORY
475 career home runs
On this date in 1948, Musial hits his 77th career home run and 6th of the season off Warren Spahn in the top of the 8th inning. the Cardinals were trailing 2-0 when he hit the solo shot.

May 21, 1954, Stan smacked his 14th homer of the season and 271st of his career. It was against Frank Smith of Cincinnati in the bottom of the 7th. The Cardinals were trailing 5-2 and Musial hit a GRAND SLAM home run.

Don Elston was on the hill for the Chicago Cubs with the game tied 3-3 in the top of the 9th inning when Musial hit a 3-run home run for his 432nd of his career and 3rd of the season.
Birthdays

 Sandy McDougal (May 21, 1874 – October 2, 1910) pitched in five major league games.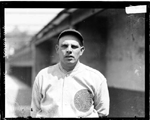 Bunny Hearn (May 21, 1891 – October 10, 1959) His career marks show his record as 13-24 with a 4.91 ERA and 111 strikeouts.

 Dick Ward (May 21, 1909 – May 30, 1966)  He posted no wins or losses and had a 3.00 ERA with one career strikeout.
Joe Thacker  (May 21, 1934 – November 13, 1997) played for the Cardinals in 1963 as an infielder. 

 Chris Widger (1971)  In his career he drove in 222 runs with 55 home runs and batted .238 as a right-handed hitter. He also played first base for a few games.
Andrew Miller-(1985) was signed as a free agent reliever for 2019 season.
Matt Wieters- was signed as a free agent catcher for 2019 season.
Debuts
Frank Belcher 1910

Bart Zeller 1970

Charlie Hudson 197

2
Deaths
Jack McAdams 1937
Les Fusselman 1970
Cot Deal 2013