1938– The Cardinals purchased Hal Kelleher from the Philadelphia Phillies
1938– The Cardinals purchased Earl Browne from the Philadelphia Phillies
1953– Six years after Jackie Robinson makes his major league debut, the Cardinals sign their first black player when Len Tucker agrees to a $3,000 professional contract but the speedy outfielder slugger will never get the call from St. Louis. 
1958– The St. Louis Cardinals traded Barney Schultz to the Detroit Tigers for Ben Mateosky
1964– The St. Louis Cardinals selected Walt Williams off waivers from the Houston Colt .45's.
Gibson Complete Game (9IP/6H2ER/2BB/9K) in 1966. The Cardinals scored 3 runs in the bottom of the 9th to give Gibby the win 3-2. It took 2 hrs and 9 minutes for St Louis to defeat the Cubs.   Boxscore 
1978– The St. Louis Cardinals released Gary Sutherland.
1978– The San Diego Padres traded George Hendrick to the St. Louis Cardinals for Eric Rasmussen
2003– The St. Louis Cardinals released Brian Lesher.
2013– Weak hitting Pete Kozma faces the best pitcher of the day in Clayton Kershaw of the Dodgers and goes 4-for-4 (including 3 doubles) with 3 RBI's in a 5-3 win. 
2004– The Cleveland Indians purchased Lou Pote from the St. Louis Cardinals
2014– The St. Louis Cardinals signed Pedro Feliciano as a free agent.
MUSIAL'S HOME RUN HISTORY
475 Career Home Runs
Musial hit seven home runs on this date. In 1948, he hit two in one game. The first was a 2-run shot off Dave Kosio of the Pirates in a tied game. and then a solo homer in the 9th inning for career #80. In 1949 he hit a solo shot off Cliff Chambers for his 116th. He got # 116 facing Ken Raffensberger in 1950 and acing Cincinnati in 1951, he smacked a 2-run home run of Howie Fox and it was his 180th career home run. Lastly, in 1957, he smacked a grand slam home run against Cincinnati's Hal Jeffcoat and it was #360. 
Birthdays
Stoney McGlynn (May 26, 1872 – August 26, 1941) pitched for the Cardinals as he made his debut on September 20, 1906. He was 17-33 with a 2.95 ERA and 157 strikeouts before his last game on September 2, 1908.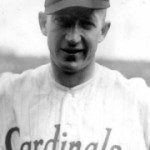 Gene Paulette  (May 26, 1891 – February 8, 1966)  was selected off waivers by the St. Louis Cardinals on 1917 and became their regular first baseman. He was versatile on the field; he played every infield position for the Cardinals in 1918. In July 1919, he was traded to the Philadelphia Phillies. However, in the wake of the Black Sox Scandal, Paulette was permanently suspended from organized baseball. He had allegedly received gifts from St. Louis gamblers and also offered to throw some games early in the 1919 season.
Chuck Hartenstein (1942) pitched for the Cardinals in 1970 as he was in 6 games and 13.1 innings pitched with no record with an 8.78 ERA.
Ed Crosby (1949) debuted on July 12, 1970, and played as an infielder for a few seasons for the Cardinals and amassed 161 games and 89 hits with a .219 batting average. 
Rob Murphy (1960) played for the Cardinals in 1993-1994 and In an eleven-season career, Murphy compiled a 32–38 record with thirty saves and a 3.64 ERA in 597 games.
Willie Fraser (1964) pitched for the Cardinals in 1991 and In 239 major league games, Fraser compiled a 38–40 record, with 328 strikeouts and a 4.01 ERA.
Debuts
Joe Garagiola 1946  went 1-for-4 and caught a complete game of Ken Burkhart in a 4-3 victory.
CJ Fick 2012 pitched one inning and allowed one hit. 
Deaths
Don Bollweg 1996
BASEBALL HISTORY- May 26, 1976- Joe Niekro takes his brother deep for the only homerun in his career.