This Date in Cardinals History
The Cleveland Indians traded Luis Alvarado to the  Cardinals for Doug Howard in 1975.
The Cardinals released Bernie Carbo and Pedro Borbon in 1980.
The Cardinals pay tribute to Hall of Fame hurler Dizzy Dean, in 2000, by dedicating a statue, created by sculptor Harry Weber, outside of Busch Stadium. The colorful character joins Enos Slaughter, Bob Gibson, Lou Brock, Stan Musial, and Red Schoendienst to be honored in such a manner by the Redbirds.
The Texas Rangers traded Esteban Yan in 2003 to the Cardinals for Rick Asadoorian
The Cardinals signed Travis Smith as a free agent in 2006.
MUSIAL'S HOME RUN HISTORY
1950- Stan hit #150 of his career with a 2-run homer facing Herm Wehmeier.

In 1951, he hit #181 and #182 off Willie Ramsdell to score 4 runs in the game.

Facing the Cubs pitcher Johnny Klippstein, he smacked #211 in the top of 4th inning.

Another came in 1957 which was his 361st career homer facing Bob Rush of the Cubs.

In 1959, a solo homer was hit in San Francisco for his 402nd homer and it was off Johnny Antonelli.
Birthdays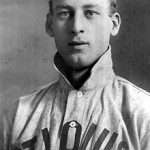 Bill Ludwig  (May 27, 1882 – September 5, 1947) made his debut on April 16, 1908, as a catcher with the Cardinals and contributed 8 RBI's with a .182 batting average when he played his last game on October 3, 1908.
  Frank Snyder (May 27, 1894 – January 5, 1962)  began his major league career with the St. Louis Cardinals in 1912 at the age of 18. He was traded to the New York Giants in the middle of the 1919 season. He hit the first major league home run in the history of Braves Field in 1922.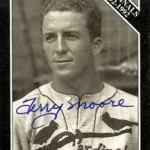 Terry Moore (May 27, 1912 – March 29, 1995) began playing for the Cardinals in 1935 which was a year after the Cardinals and the Gashouse Gang won the World Series. He had a stellar career but it was interrupted by World War II. He played in 1,280 games and smack 80 home runs along with 1,318 hits and a career .280 hitter.
Debuts
Fred Whitfield 1962
Chuck Taylor 1969
Troy Cate 2007
Deaths
Ed Konetchy 1947
Jesse Burkett (HOF) 1953
Herman Bronkie 1968