May 28, 1901 – Behind the shutout pitching of Jack Powell, the St. Louis Cardinals defeat Christy Mathewson and the New York Giants, 1 – 0. For Mathewson, it is his first loss of the season. His lone base on balls, in the 2nd inning, results in the game's only run.
In 1956, the Cardinals traded Dick Rand and cash to the Pittsburgh Pirates for Toby Atwell.
The Cardinals, in 1960, trade Dick Gray and Vinegar Bend Mizell to the Pittsburgh Pirates for Ed Bauta and Julian Javier.
The Cardinals traded Marty Martinez to the Oakland Athletics for Brant Alyea in 1972. 
The Atlanta Braves trade Wayne Nordhagen and Ron Reed, in 1975, to the St. Louis Cardinals for Ray Sadecki and Elias Sosa. 
The Pirates purchased Dave Hamilton from the Cardinals in 1978.
2006- The Cardinals released Desi Relaford.
The Cardinals released J.R. Towles in 2013. 
Keith Butler, in 2014,  has Tommy John surgery. 
Tracking Musial's Home Runs
In 1943,  Stan smacks #13 of his career while facing Red Barrett in the first inning with a solo homer.

Musial hits #27 of his career, which is a 3-run home run, facing the NY Giants in 1944.

He hits #183  in 1951 with Cliff Chambers on the mound for the Pirates. It was a 3-run home run. 
Gibson's Complete Games
Gibby took another complete game loss (he had 44 in his career) as the Cardinals fall to the San Francisco Giants 3-1. The stat line for Gibson was 8IP/4H/3ER/1BB/5K.

The game lasted for 1hr and 51 minutes. 
Birthdays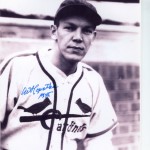 Art Lopatka (May 28, 1919 – March 10, 2007) was a left-handed pitcher that played for the Cardinals briefly as he made his debut on September 12, 1945 and was traded after the season. His career mark finished at 1-1 with a 6.35 ERA and 17 strikeouts.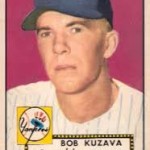 Bob Kuzava (1923) played 3 games at the end of his career with the Cardinals for 2.1 innings and a 3.86 ERA. 
  Bobby Smith (1934) was an outfielder that made his debut with the Cardinals on April 16, 1957. In his career, he batted .243 with 13 home runs and 96 runs batted in. 
 Skip Jutze (1946) was a catcher that debuted on September 1, 1972, with the Cardinals but was moved on before the start of the next season. He hit .215 with 3 homers and 51 runs batted in. 
 Mike DiFelice (1969) made his debut with the Cardinals on September 1, 1996, and continue with them through the 1997 season as a backup catcher.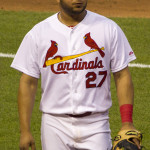 Jhonny Peralta (1982) wass a member of the St. Louis Cardinals after a lengthy career in Cleveland and Detroit. On November 24, 2013, Peralta signed a four-year contract worth $53 million with the St. Louis Cardinals. 
Debuts
 Julian Javier 1960 singled to right in his first at-bat and finished 2-for-3  Boxscore
  Fernando Salas 2010 pitched one inning and allowed no hits Boxscore 
2017– Pitcher John Brebbia faced one batter
2017– Infielder Paul DeJong hit a pinch-hit home run in his first MLB at-bat.
Deaths
Fred Smith died in 1901 and played 56 games and hit .182 for the Cardinals.

 George Anderson died in 1962 after playing 31 games and hitting .295 for the Cardinals.
Harry Parker died in 1976. He was a right-handed pitcher and finished 1-2 with a 4.89 ERA as a Cardinal.
  Taylor Douthit died in 1986. He played 9 years for the Cardinals and hit .300.