Box Score History- May 29, 1990
Ozzie Smith had one hit and one RBI in the game and Willie McGee and Pedro Guerrero each added two hits (all Cardinal hits were singles in the game). Ozzie stole base #8 and Vince Coleman collected his 22nd stolen base in a 3-2 win over the Astros. John Tudor started the game and had 7IP/5H/1ER/0BB/3K to move his record to 5-2 on the season. Lee Smith picked up save #4 on the year. 
Triple Play in 1939

In the first inning, the Pittsburgh Pirates get the first two batters on base when Johnny Rizzo hits a 5-4-3 (Gutteridge-Martin-Mize) triple play to the Cardinals infield. 
Dave Brain has three triples in one game against the Pirates in 1905.

The Chicago Cubs purchased Doc Marshall in 1908 from the Cardinals.

In 1970, the Cardinals traded Phil Gagliano to the Chicago Cubs for Ted Abernathy.

The Cardinals, in 1976, traded Mario Guerrero to the California Angels for Ed Kurpiel and Edward Jordan (minors).

The Cardinals released Brian Hunter in 2004.
WOW (Walk-Off Winner)- In 1995, the Cardinals defeated the Rockies 6-5 in 11 innings. With the score tied 5-5, Tom Pagnozzi leads off with a single facing Roger Bailey. The next batter fails to move him over. Brian Jordan singles and runners are at the corners. Geronimo Pena singles home the winning run for a WOW! 
Tracking Musial's Home Runs
It was in 1955, Stan hit career home run # 299 facing Corky Valentine of Cincinnati. It was a 3-run home run in the bottom of the 4th inning. 
Birthdays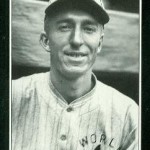 Art Reinhart (May 29, 1899 – November 11, 1946) pitched in 1919 with the Cardinals and then left the team and re-joined them 1925-1928. he pitched in 123 games and compiled a 30-18 record.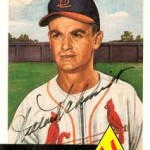 Willard Schmidt (May 29, 1928 – March 22, 2007) made his debut in a Cardinals uniform on April 4, 1952. He completed his career with a 31-29 record and a 3.93 ERA.
  Eric Davis (1962) had a 17-yr career in the major leagues and was with the Cardinals from 1999-2000. He played in 150 games and compiled 126 hits with a .283 batting average while wearing the Birds on the Bat.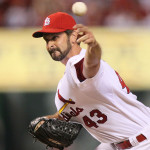 Trever Miller (1973) On December 3, 2008, Miller signed a one-year incentive-laden deal worth potentially $2 million with the St. Louis Cardinals and he made his debut with the Cardinals on Opening Day, Apr. 6, 2009. He relieved with 2 outs in the 6th inning, giving up 2 hits charged with a blown save, striking out 2 batters in his 1.0 IP.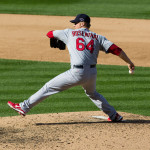 Trevor Rosenthal (1990) The Cardinals drafted Rosenthal in the 21st round of the 2009 MLB Draft. He signed for $65,000 and made his major league debut on July 18, 2012.
Gibson's Complete Games
1967- Gibson wins 2-1 over Cincinnati in 11 innings (11IP/6H/1ER/3BB/12K
Debuts
Adam Ottovino 2010
Ed Easley 2015
Deaths
Doc Lavan 1952