The Cincinnati Reds purchased Bill Hallahan from the Cardinals in 1936.
The Cardinals purchased Tony Freitas in 1936 from the Cincinnati Reds.
In 1999, after consulting a dugout TV monitor, Frank Pulli becomes the first umpire to use instant replay to make a call, changing Cliff Floyd's fifth-inning home run to a ground-rule double in the Marlins' 5-2 loss to the Cardinals. After the Pro Player Stadium contest, the National League League officials make it clear the use of technology should not have been used to reverse the call.
TRIPLE PLAY- In 2000, Mark McGwire was at bat facing the Arizona Diamondbacks when he hit a shot to center field. Shawon Dunston was on first and Placido Polanco at third when the catch was made. The DBacks pulled off an 8-2-6.
Tracking Musial's Home Runs- Stan hit NO home runs on this date in baseball history.
Birthdays
   Ray Washburn (1938) made his debut in a Cardinals uniform on September 20, 1961, and continue to play for them through 1969. He pitched a no-hitter against the Giants on September 18, 1968. He won 72 games in his career and lost 64 while posting a 3.53 ERA and 700 strikeouts.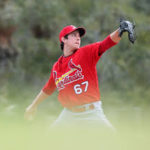 Matt Bowman in 1991 was a Rule 5 pick-up in 2016.
Gibson's Complete Games

1964- Gibson pitched his 46th complete game with a 2-1 win over the Cincinnati Reds. He went 9IP/6H/1ER/2BB/7K.

1972 found Gibby with a 1-0 complete game (#211) shutout over the Chicago Cubs. He went 9IP/3H/0ER/2BB/5K for the win. 
Debuts
Bill Greason 1954
Oscar Taveras 2014
Deaths
Jimmie Wilson 1947
BASEBALL FACT: On this date in 1914, Joe Benz of the Chicago White Sox pitches a no-hitter against the Cleveland Naps for a 6 – 1 victory.