CARDINALS HISTORY
President William H. Taft leaves Robinson Park in 1910, where the Cardinals are routing the Reds, to catch a great pitching duel between the Naps' Cy Young and the Browns' Joe Lake at Sportsman's Park. The chief executive will stay to the last out of the American League contest which ends in a three-to-three tie after 14 innings of play. 
The Cardinals purchased Hi Myers from the Cincinnati Reds in 1925.
The Cardinals, in 1934, purchased Francis Healy from the New York Giants.
For the first time in the city's history, blacks are allowed to buy grandstand seats in St. Louis in 1944. The Browns and Cardinals are the last major league teams to integrate seating for fans, having restricted the minority to the bleachers in previous years.
The Phillies and Cardinals set a major league record in 1954 by using a total of 42 players in one game. 
In 1990, the Cardinals receive Lee Smith and the Red Sox garner Tom Brunansky in a trade. 
Tracking Musial's Home Runs

In 1947, Musial hits a solo home run off Glenn Elliott in the top of the 5th inning of a scoreless game for his #55 of his career.

He hit #73, a solo home run, in 1948 off Ralph Branca with the Cardinals ahead 3-2 in the bottom of the 6th inning.
FREE AGENT SIGNINGS
In 1975, Cardinals signed Ken Oberkfell.

 Cardinals signed Darren Holmes in 2000.

The Cardinals, in 2002, signed Jason Jacome.

The St. Louis Cardinals signed Dan Johnson in 2015.
Birthdays

   Larry Milton (1879-1942) played in one game in his career on May 7, 1903. He pitched and had no decision but ended with a 2.25 ERA in his work.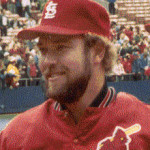 Ken Oberkfell (1956) made his Cardinals debut on August 22, 1977, and played for them through the 1984 season when he was traded. In his career, he hit .278 with 1,354 hits and 446 runs batted in. 
    Manny Aybar (1972) made his major league debut with the Cardinals on August 4, 1997, and continued in an STL uniform until 2000. He finished with a 17-18 record along with a 5.11 ERA and fanned 273 batters.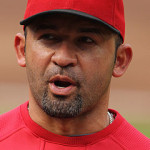 Miguel Cairo (1974) In August 2001, the Cardinals claimed Cairo on waivers from the Cubs. He remained with the Cardinals through the 2003 season. He hit .333 in 27 games in 2001, .250 in 108 games in 2002 and .245 in 92 games in 2003. He also appeared in the post-season for the first time in his career in 2001.
Debuts
Johnny Chambers 1937

Terry Bradshaw 1995

Jason Simontacchi 2004
Deaths
John Dolan 1948
Otto McIvor 1954
Juan Yepez 2022