Transaction Wire
Pirates' shortstop Glenn Wright catches Jim Bottomley's line drive in 1925, doubles up Jimmy Cooney at second and tags Rogers Hornsby coming from first to complete an unassisted triple play in a 10-9 loss to the Cardinals. BOXSCORE
Los Angeles (PCL) purchased Fred Haney from the Cardinals in 1929.
The Cardinals trade Paul Derringer, Sparky Adams, and Allyn Stout to the Reds in exchange for shortstop Leo Durocher, Dutch Henry and Jack Ogden in 1933. The deal, necessitated by Charley Gelbert's hunting accident, will be viewed as one of Branch Rickey's biggest mistakes as Derringer will become a four-time 20-game winner for Cincinnati.
The Cardinals purchased Phil Collins in 1935 from the Philadelphia Phillies
The Philadelphia Athletics sent Carl Scheib to the Cardinals in 1954 as part of a conditional deal
The Pirates traded Max Surkont to the Cardinals for Luis Arroyo in 1956.
Stan Musial hits the 9th walk-off home run of his career and it is also his 400th of his career in 1959.
The Houston Colt .45's traded Bobby Shantz to the Cardinals in 1962 for John Anderson and Carl Warwick.

In 2004, the Cardinals traded Joe Horgan to the Montreal Expos for Benji DeQuin.
MUSIAL HOME RUN HISTORY
On this date in 1955, Stan hit his 4th home run of the season and the 296th of his career. It was a home game against Milwaukee as the Cardinals were behind 8-1 in the bottom of the 7th inning. Gene Conley was on the hill and Red Schoendienst was on first base when Stan hit the long home run.

On this date in 1959, Musial connected on his 2nd homer of the year and the 400th of his career in the bottom of the 9th inning against the Chicago Cubs. The game was tied 3-3 with no one on base and Stan was facing Don Elston when he connected for the game-winning walk-off home run.
Birthdays
Ed Heuser (May 7, 1909 – March 1, 1956) made his major league debut on April 25, 1935, with the Cardinals. He was the National League ERA champion in 1944 with Cincinnati. For his career, he compiled a 56–67 record in 266 appearances with a 3.69 ERA and 299 strikeouts. While playing, Heusser earned the colorful nickname "The Wild Elk of the Wasatch."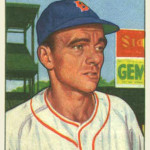 Al Papai (May 7, 1917 – September 7, 1995)  made his major league debut with the Cardinals on April 24, 1948. He played nine seasons in the major leagues and was 9-14 in his career with a 5.37 ERA.
Debuts
Tom McGraw 1997
Shane Robinson 2009
Magneuris Sierra 2017
Deaths
none